Letter To Stakeholders
WHAT SUSTAINABILITY LOOKS LIKE FOR DEVON
Through a strategic series of divestitures and organizational adjustments, we completed our transformation in 2019 to a returns-driven, capital-efficient U.S. oil growth company, thanks in large part to the dedication of our employees who carry out our strategy every day. It was clearly the right thing to do for our business. Little did we know how well our financial strength and operational excellence would position us for the unprecedented turmoil to come in 2020.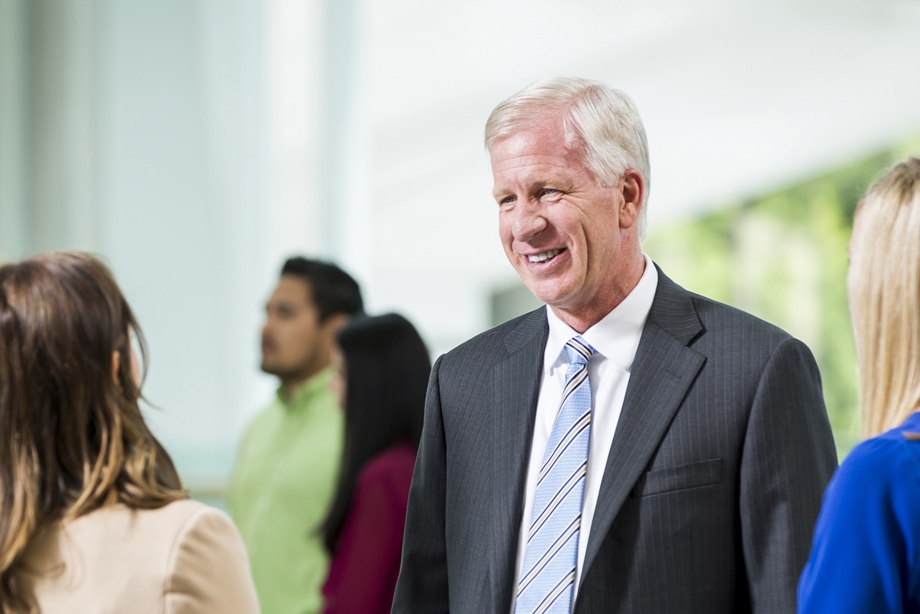 The COVID-19 pandemic has affected us all, and the global response to it locked down economies everywhere. Demand for oil was severely suppressed in the first half of 2020, and the low prices that came with the drastic declines in demand have persisted. At Devon, our leaders and employees have acted quickly and effectively. As we've managed through unprecedented disruptions, our employees maintained their disciplined approach. They've put health and safety first, pivoting seamlessly to new ways of working while continuing to execute our business strategy safely and responsibly. All this, while also caring for their families and communities. Their performance has been simply outstanding.

Adding to the strain of the pandemic has been national outrage and civil unrest stemming from appalling incidents of police brutality and calls for more action on racism and discrimination. At Devon, I've been meeting with our Inclusion Action Team of employee volunteers. Together, we're identifying and implementing changes that can make our community a better place and Devon a better company for everyone.
Sustainability moving forward
Taken together, all of these challenges cause us to focus more sharply than ever on what sustainability looks like for Devon Energy. We expect oil demand to pick up again as economies open back up, even if not to pre-pandemic levels. Still, hydrocarbons will be an essential component of the global energy mix for decades to come. Our analysis of future scenarios – including controls on carbon and lower commodity prices – strongly suggest that our company is well-positioned to compete. We intend to continue our record as a reliable, responsible producer of energy to help meet global demand.

Devon remains committed to improving our environmental, social and governance (ESG) performance and reporting it transparently. We understand that stakeholders expect a successful company to address ESG risks and opportunities while delivering strong financial returns. To drive improvement companywide, we make corporate ESG goals a part of our employee compensation program.
ESG progress in 2019
We listen to stakeholders and assess risks and opportunities. We set and act on our priorities, and in 2019 we made significant progress in key ESG focus areas. Perhaps most notably, we publicly committed to a target to reduce methane intensity to 0.28% or lower. In 2019 we met this ambitious goal with emissions-control technologies and an expanded leak detection and repair (LDAR) program.

In our most active operating area, New Mexico's Delaware Basin, we reduced flaring and increased water recycling. By year-end 2019, flaring was down to 1% or less and our use of recycled water had tripled since 2016.

We always want to be a good neighbor, and this extends to doing what we can to improve the quality of life in communities where we live and work. In 2019, Devon provided education resources to thousands of students across our operating areas, enhancing our own investments by attracting like-minded partners to join us. We want to be a vital contributor in our communities and will be creative about how we continue this in challenging times.

Our pursuit of safety in our operations is never complete; we never consider our performance to be good enough. This was true again in 2019, and we're sharpening our focus on training and sharing lessons learned to prevent incidents and injuries going forward.
Likewise, we're always looking for ways to strengthen our corporate governance. We've added diversity and new perspectives to our board of directors and through proactive engagement, we've steadily increased transparency on issues that are top-of-mind for our stakeholders.
This year, as we produce new, free-standing reports on political activity and climate risk, our directors remain engaged on ESG. They reviewed and approved this report.

As we've enhanced reporting and transparency year by year, our ratings in leading ESG-focused surveys have improved. Devon participates in these assessments to demonstrate our progress and performance on key ESG measures. And to ensure the accuracy and usefulness of the ratings, we support the standardization of reporting metrics.
Striking a balance
ESG highlights Devon's strengths, differentiates our company from our peers and is a source of pride for our employees. Safe and clean operations have a positive impact on our financial results, which in turn help us to better support our communities. As ESG metrics become more quantitative, expectations will rise. We're continually looking to expand our efforts and enhance transparency, with a responsibility to balance costs and benefits.

Thank you for your interest in what Devon is doing to be a safe and responsible operator. Regardless of the challenges we face, our commitment to doing things the right way will not change.

Sincerely,


Dave Hager
Executive Chair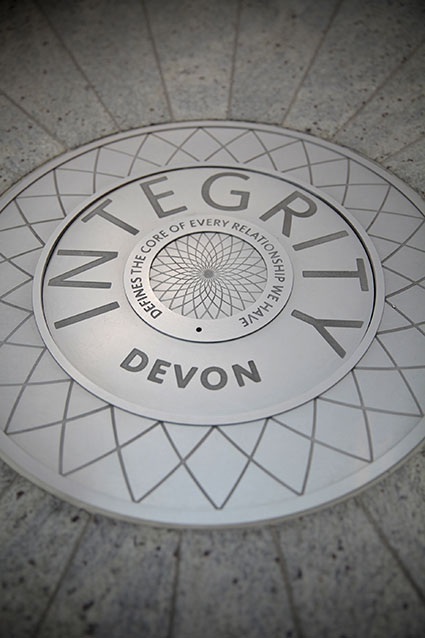 Core Values:
The Devon Way
Trust is a key ingredient in Devon's success. It is vital that our stakeholders trust us to deliver results the right way. The Devon Way.
Our Results
Performance Highlights