STEM
Our company, communities and industry need an educated and innovative workforce to grow and thrive. Devon invests in educating and empowering groups that have been traditionally underserved.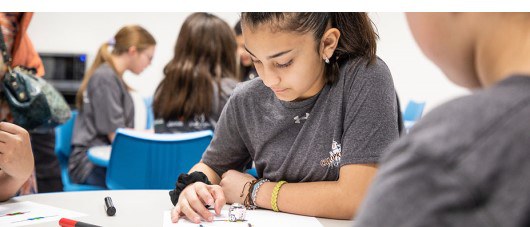 Meeting needs and providing solutions

Jobs requiring formal training in science, technology, engineering and math (STEM) accounted for 20% of the U.S. job market last year, and the need for STEM graduates has been growing. The oil and natural gas industry has always been highly technical and continues to be transformed by technology and innovation. At Devon, our need for STEM-oriented professionals continues to grow, right alongside our desire for an inclusive and diverse workforce. Our support for local education emphasizes both of these vital areas.
With our technology leadership goals and inclusion-and-diversity vision, we see a big opportunity in focusing resources on traditionally underrepresented populations, including women, rural communities and minorities. We strengthen our philanthropic investments by partnering with qualified organizations that have a track record in STEM to identify community needs and solutions. Organizations we work with include the Oklahoma City STEM Collaborative, STEM Ecosystems/STEM Funders Network and Oklahoma City Public Schools Foundation, as well as teachers and administrators across several school districts. Based on our conversations with all these stakeholders, we provide resources and materials and implement programs to empower traditionally underserved groups.

Integrating STEM into children's education

Devon convened a variety of local and national nonprofits, private foundations and corporations in 2019 to develop a STEM model that changes how students and families are exposed to STEM resources. One key partner in realizing this vision was the Cal Ripken, Sr. Foundation, which transforms education spaces into state-of-the-art, bright and engaging STEM resource spaces in schools and community groups.
The new spaces allow STEM learning to become increasingly integrated into children's education. Teachers are well-trained and receive STEM resources to inspire students and increase their understanding of basic circuitry, coding, robotics, engineering and more.
In 2019, we expanded STEM resources in areas where we operate to replicate the success we saw from our first STEM model at Mark Twain Elementary School in Oklahoma City. Through partnerships with local foundations, schools and others, Devon and the Cal Ripken, Sr. Foundation will install 14 new STEM centers across Lea and Eddy counties in New Mexico in 2020. STEM centers also will be installed in Oklahoma City; Douglas, Wyoming; Kingfisher, Oklahoma; and Cuero, Texas.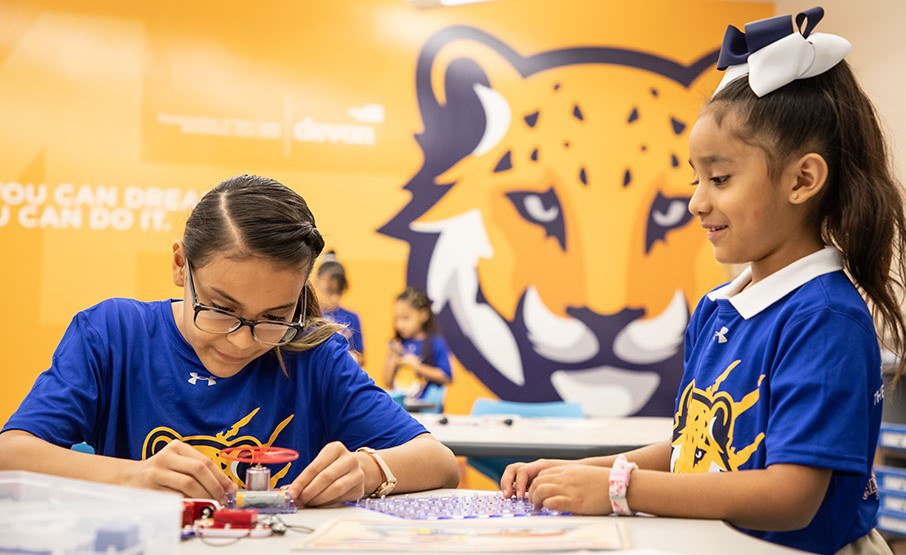 ---
Devon supports a variety of STEM programs in our operating areas.

Design + Do
Introduced in 2018, our Design + Do challenge gives children a hands-on opportunity to have fun while solving a problem and building STEM skills. In 2019, fifth-graders from eight elementary schools came together at the University of Oklahoma Tom Love Innovation Hub to design and construct prototype parade floats for community events using 3D printers, laser cutters and other materials, following which they presented their creations to a panel of judges. Devon employees helped them build the prototype floats. Design + Do exposes students to real-world technology and innovation challenges and encourages creativity and teamwork.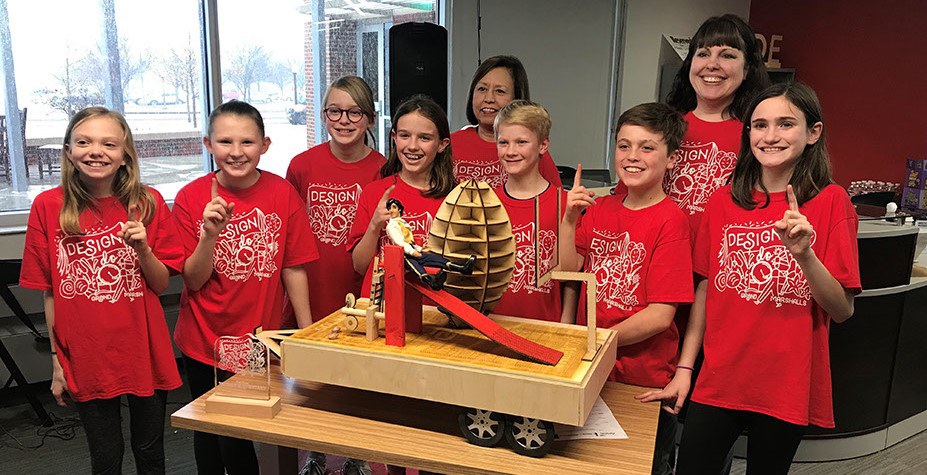 Ripken STEM Center grants
Devon is committed to helping communities inspire young people to pursue an interest in STEM subjects by working together with schools and community organizations to enhance access to STEM education. Through our signature STEM grant program, Devon has made more than $1 million in grants to educators in our U.S. operating areas in the past eight years. In the Oklahoma City area, Devon's investments in STEM education have provided more than 88,000 K-12 students better access to educational opportunities. In addition, Oklahoma teachers have been able to enhance their instructional time with students through more than 30 Devon grant programs.
Additional STEM programs we support:

We partner with the Oklahoma Future Farmers of America to encourage students to consider the ways in which the agriculture and oil and gas industries intersect. As part of the program, students include oil- and gas-related projects in the annual FFA Agriscience Fair. In 2020, we expanded the program to Wyoming.


Devon and the Oklahoma City Thunder partner to offer a program that encourages young people to engage in STEM activities that explore the science behind basketball. The Thunder gives special recognition to students who complete science experiments and other challenges.

The Devon Energy STEM Teacher of the Match honors elementary teachers nominated for their hard work in the STEM education field. Teachers are recognized during an on-field presentation and receive $1,000 for their classroom.

Devon sponsored the Oklahoma First Robotics regional finals for the third consecutive year in 2019. The six-week competition paired 63 teams of young people from across the state with local engineers, professors and business professionals to solve an engineering design problem. FIRST (which stands for "For the Inspiration and Recognition of Science and Technology") is a nonprofit founded in 1989 to inspire young people to join the field of science and technology.

In partnership with the Carlsbad Community Foundation, Devon hosts a one-week STEM-focused summer camp for third- through fifth-graders, offering free admission for students identified as disadvantaged by school counselors. Students are exposed to STEM-related careers and learn how to solve problems and apply critical-thinking skills during hands-on activities.

This program recognizes and rewards outstanding students for their achievements in science and math in more than 400 classrooms across Oklahoma City. Third- and fourth-grade students are selected to receive tickets to a game and the opportunity to attend the MVP Field Day featuring STEM activities. The program is free to teachers, who also receive tickets to an Oklahoma City Dodgers game where MVPs are honored. The Dodgers are a Minor League Baseball Triple-A affiliate of the Los Angeles Dodgers.

The Paper Takes Flight event combines the fun of hot-air ballooning with an education in the science of energy for all fifth-grade students enrolled in Artesia Public Schools in New Mexico. Students work together to build six-foot balloon envelopes from tissue paper that will launch using heat energy. With a focus on engineering, math and thermodynamics, this hands-on activity expands on classroom curriculum in an engaging way.

In this annual competition, Devon pays for students to travel to Houston to present their rocket designs to a team from NASA.