Human Rights
Devon incorporates human rights considerations in its business decisions. We evaluate ways to enhance awareness of key issues and engage with our stakeholders, vendors and suppliers to continue to improve our approach.

All people are created equal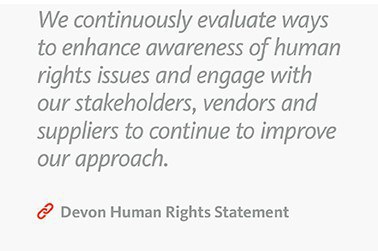 The Universal Declaration of Human Rights, signed in 1948, recognizes the inherent dignity and the equal and inalienable rights of all members of the human family. Human rights are the foundation of freedom, justice and peace in the world, and Devon is committed to the philosophy expressed by the United Nations General Assembly. Our core values embrace social progress and economic growth, consistent with the Guiding Principles on Business and Human Rights endorsed by the UN Human Rights Council in 2011.
We're also guided by the principles articulated in the Declaration of Fundamental Principles and Rights at Work adopted by the International Labor Organization in 1998. These principles include prohibition of child labor, forced labor and discrimination in the workplace.
Devon participates in the lives of the communities where we live and operate, and we actively engage with our neighbors to understand the environmental and human impacts of our operations. When assessing and addressing these impacts, we consult with those who may be affected.