Shareholder Engagement
Through ongoing dialog with shareholders, we've gained valuable insights that shape our environmental, social and governance programs and focus our disclosures.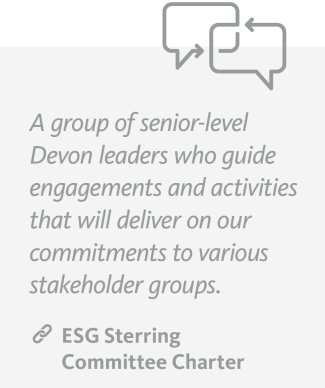 Building relationships with our shareholders helps Devon anticipate and manage issues that influence sustainability. We communicate directly with shareholders to understand their interests and needs, and to communicate our business strategy and plans. In 2019, we engaged with many of our largest shareholders on multiple occasions and invited each of our top 50 investors to engage with us after releasing our proxy statement and 2019 Sustainability Report. Devon senior leaders and subject-matter experts engaged with our shareholders, and then shared the key themes from those meetings with our senior management and board of directors. Our directors welcome this feedback from shareholders, as well as direct engagement on their specific areas of expertise.
Many of our shareholders have made it clear that our environmental, social and governance (ESG) performance is a key component in how they value the company. In turn, our board's Governance Committee has sharpened its focus on our engagement, oversight, processes and performance on key ESG matters.
On an ongoing basis, Devon's senior-level ESG Steering Committee coordinates our efforts and keeps our executive committee, board Governance Committee and the full board updated.
In recent years, we've reported our ESG performance more thoroughly and transparently, with a growing focus on climate change risk. We followed our first Climate Change Assessment Report in 2018 by setting a methane intensity target in 2019. In addition, each year we publish our Sustainability Report and Political Activity and Lobbying Report. We've made ESG performance more prominent in investor communications through surveys such as Sustainalytics, MSCI and CDP. We've also incorporated ESG metrics into our compensation structure.
Devon continues to look for opportunities to report additional information our shareholders value. For example, we expanded our Political Activity and Lobbying Report to include trade association memberships and the dues we pay. Our updated 2020 Climate Change Assessment Report includes an evaluation of Devon's current asset portfolio in carbon-constrained future scenarios. The updated report also enhances the company's alignment with the Task Force on Climate-related Financial Disclosures (TCFD), a framework recognized by most investors and ESG evaluators.
Top-tier ESG Ratings
Devon participates in numerous third-party ESG-focused surveys and assessments that help stakeholders benchmark our progress and enable Devon to refine our transparency efforts and improve our ESG performance. We're already delivering top-tier ESG ratings compared to our peers, with Sustainalytics, MSCI and CDP ranking our ESG scores at the top of our peer group. Institutional Shareholder Services (ISS) also recognizes our top-tier performance on environmental and social issues compared to our peers. In addition, we've been reporting to CDP for 16 consecutive years and achieved peer-leading performance on CDP's climate and water surveys in 2019. Our ESG Steering Committee is evaluating surveys to ensure we're dedicating our resources to those that our investors value most.
We will continue to listen, engage and respond to our shareholders as we seek to stand out as an ESG leader in our industry.