Operations Overview
A premier portfolio of assets with a deep inventory of opportunities.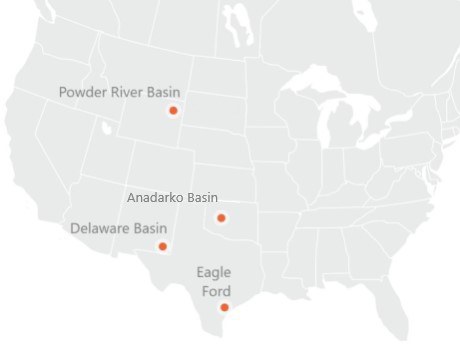 Devon Energy finds and produces oil, natural gas and natural gas liquids from leading producing regions in the U.S. We have strong and sizable acreage positions with a high-quality, multi-decade inventory of drilling locations. Our careful assessment indicates our portfolio is sustainable, with assets that can be profitable even in an aggressive low-carbon scenario.
We operate in the Delaware Basin of southeastern New Mexico, the Anadarko Basin in western Oklahoma, the Eagle Ford Shale in Southern Texas and the Powder River Basin in Wyoming.
Devon's operating teams are accountable for working in a safe and environmentally responsible way, delivering strong returns while complying with all applicable laws and regulations, along with Devon's corporate policies. We apply the latest tools and best practices to reduce emissions and limit our use of fresh water. We firmly believe that our focus on the details required to work safely and to protect the environment serves to elevate our company's performance in all areas.
Our commitment to operational excellence includes controlling our costs and seeking the highest-margin production available in our core areas. In a relentless drive to increase the value we create for all of our stakeholders, we are growing oil production without increasing capital spending.
Additional information about Devon's performance is available in our detailed quarterly Operations Reports.