Operations Overview
Across Devon's premier multi-basin U.S. oil portfolio, focusing on the details required to work safely and protect the environment elevates our performance in all areas.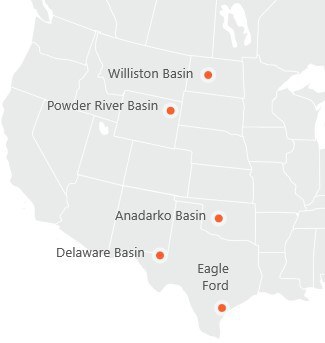 Devon Energy finds and produces oil, natural gas and natural gas liquids from the most prolific basins in the U.S. We have premier acreage positions with a deep, high-quality inventory of drilling locations. A careful third-party assessment has determined that our business is sustainable, with assets that can be profitable even in an aggressive low-carbon scenario. With no near-term debt maturities, ample liquidity, a disciplined hedging strategy, a returns-driven capital program and strong cash flows, we expect to emerge as a post-pandemic industry leader capable of delivering strong operating performance. Our focused development plan centers on drilling activity in core areas of the Delaware Basin of southeastern New Mexico, the Eagle Ford Shale in south Texas, the Powder River Basin in Wyoming, the Williston Basin in North Dakota and the Anadarko Basin in western Oklahoma.
Devon's operating teams are accountable for working in a safe and environmentally responsible way and delivering strong performance, while complying with all applicable laws, regulations and our company policies. Through continuous improvement in operations and environmental, health and safety (EHS) performance, we're able to improve efficiencies and lower costs.
Devon's EHS roadmap sets our strategy and priorities for improving EHS performance. Our operating teams proactively share lessons learned and track leading indicators in an effort to head off potential safety issues. Our EHS professionals are integrated into field operations to support our teams with timely guidance and effective EHS policies, protocols and practices.
We apply the latest tools, technology and best practices to improve environmental performance. To reduce emissions, we've< invested in infrared cameras to detect leaks so they can be quickly repaired. Over time, we're finding fewer leaks as we continue our use of infrared surveys in pursuit of our lower emissions intensity target. We have also increased our ability to use recycled water in our operations, substantially reducing our need for fresh water. These and other measures enable Devon to dedicate our resources to the most effective and impactful environmental strategies.
Our commitment to operational excellence includes controlling costs and seeking the highest-margin production available in our core areas. In 2019, we increased production while reducing layers of management, streamlining processes and cutting overhead.

As a long-time leader in innovation, our technology team is embedded in and aligned with our business units to optimize production. One output of this strategy in 2019 was advancement of a company breakthrough in fracture
diagnostics called sealed wellbore pressure monitoring. We're marketing it commercially and seeking a patent for the
process.

By protecting our people and the environment, we're working daily to renew our social license to operate and sustain our operations through strong financial performance.

Additional information about Devon's performance is available in our detailed Quarterly Results page.