Ethics & Integrity
Honesty and integrity are foundational values at Devon, enabling us to live out all our other values.


Devon is committed to high ethical, moral, professional and legal standards in all our business practices and relationships. We seek to always do the right thing to maintain the trust and confidence of our stakeholders.
The Audit Committee of Devon's board of directors has oversight responsibility for our ethics and integrity program, including monitoring our business practices and ethical standards. Along with the leadership in our legal group, the committee annually reviews and updates as needed our Code of Business Conduct and Ethics and our Anti-Corruption Policy and Procedures.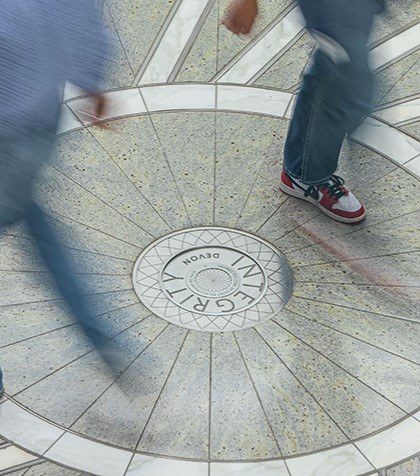 We work proactively to ensure our workforce understands their obligations to uphold our standards for ethics and integrity. Our code guides each Devon director, officer and employee in meeting our standards and fulfilling our responsibilities to our shareholders, governmental and regulatory authorities, business partners, and each other.
Devon has a separate, more stringent code of ethics that requires the highest level of ethical and legal behavior for our president and chief executive officer, chief financial officer and chief accounting officer.

Our directors, officers and employees also are required to comply with policies such as our Zero Tolerance Anti-Harassment Policy, Anti-Corruption Policy and Procedure, Conflicts of Interest Policy, and Employee Gifts and Entertainment Declaration Policy. These policies and our code of conduct are in place to ensure ongoing compliance and to reflect current business practices.

Devon employees are required to complete an ethics training course when they join the company and annually thereafter. Each year we review the training and code of conduct policies to ensure the content is up-to-date and relevant. The goal is to maintain high employee awareness and understanding of our expectations. We also require employees to acknowledge and agree to abide by our Code of Business Conduct and Ethics every year.
Keeping fraud at bay
To prevent invoicing abuse, digital scams and other types of fraud, Devon maintains an active fraud-awareness program. An internal steering committee identifies industry trends and emerging threats and informs employees so they can recognize and report fraudulent activity. The committee developed fraud identification training for employees who work in the field, in accounting and other functions.
Devon also employs fraud examiners with fraud investigation experience, so if there's a need we can quickly take action to prevent financial loss and mitigate risk.
Reporting violations is our obligation
At Devon, a violation of our code or related policies is a serious matter. Our employees share an obligation to help enforce the code, and we do not allow retaliation against any employee for reporting an actual or suspected violation of the code in good faith.
We offer a number of confidential reporting channels, including the anonymous Ethics and Compliance Helpline that's available online and by phone at all times. Anyone can access the Helpline to report harassment, inappropriate behavior, fraud, unsafe acts, accounting irregularities, human rights violations or any other potential code or policy violation. The Helpline can also be used to request guidance on Devon's ethics policy, follow up on a reported issue or to ask an ethics-related question. The Devon board of directors receives periodic reports on Helpline activity to assist in its role of monitoring our ethical standards and practices.