Community Engagement
Working together
Earning the trust of our stakeholders by what we say and do is part of the Devon culture. We're committed to building relationships of mutual respect as we work with our stakeholders – including our coworkers and their families, shareholders, neighbors, landowners, mineral-rights holders, policymakers, lawmakers, suppliers, vendors, services companies and schools. Together, we can find solutions and lay the foundation for ongoing cooperation.
We recognize that the industrial processes and equipment used to develop oil and natural gas can cause noise, traffic and other issues that affect our neighbors. Devon is dedicated to improving the compatibility of our operations in the communities where we do business and helping mitigate the impact of industry activity. We've worked with local housing developers, industry coalitions, state agencies, business owners, individual landowners and others to enhance safety and quality of life in the vicinity of oil and gas operations.
With our safety focus, Devon has a history of partnering with the emergency responders who protect our communities. Although the COVID-19 pandemic prevented the roundtable dinner discussions we've hosted for emergency responders in DeWitt County, Texas, since 2014, we hope to renew these events in the future. In 2020, we continued our practice of contributing to first responders to help them acquire trucks, training, equipment and supplies to support their important work in our operating areas.
Nearly all of our Williston Basin operations in North Dakota are located on the Fort Berthold Indian Reservation, home of the Mandan, Hidatsa and Arikara Nation (MHA Nation). To be a prudent operator there, Devon collaborates in a straightforward manner to earn and maintain the respect of the MHA Nation. Throughout 2020, this included implementing policies to reduce the potential spread of the COVID-19 virus and working to comply with the MHA Nation's COVID-19 practices. We also assisted the tribal communities through charitable giving for educational, health and safety endeavors, such as the American Indian Cancer Foundation and local fire and ambulance services.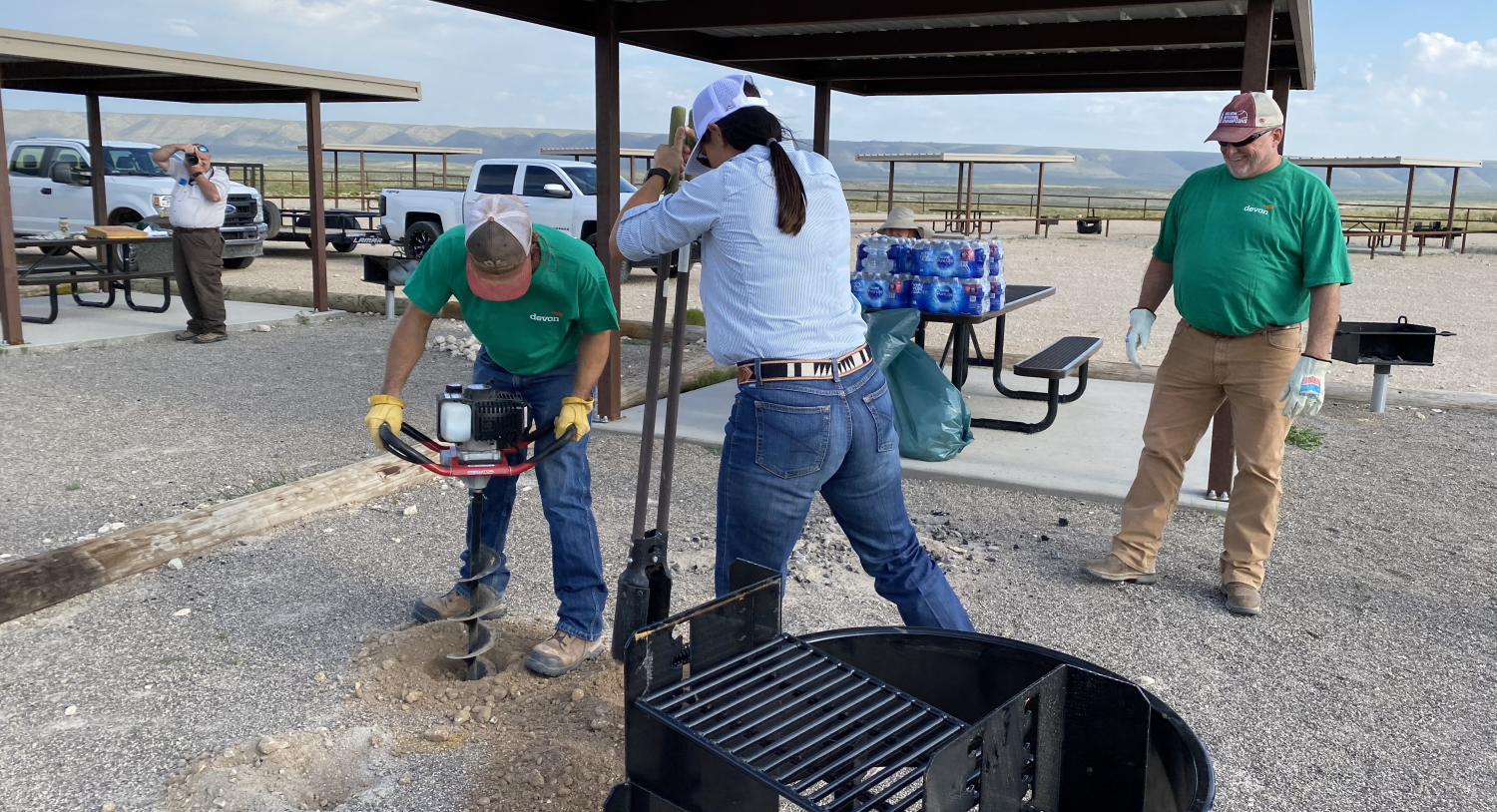 Community solutions in the Permian Basin
As one of the largest producers in the Permian Basin, Devon is quite aware of the promise and challenges that stakeholders face in this prolific oil production region. Following years of intensive development, the region encompassing Devon's Delaware Basin assets in southeastern New Mexico and west Texas became the highest producing oilfield in the world in 2019. It's a major contributor to America's energy security, as well as significant regional economic development and job creation. However, the increase in activity and influx of workers also has put a strain on the region's infrastructure, education, healthcare, housing and social services.
Energy companies, including Devon, recognized the challenges and formed the Permian Strategic Partnership (PSP) to strengthen and improve the quality of life for residents in the region. The PSP partners with local leaders to develop and implement strategic plans to bring about superior schools, safer roads, quality healthcare, affordable housing and a trained workforce.
The Permian Strategic Partnership has been an effective catalyst for building regional capabilities for community development. Devon is proud to be a leader in this industry coalition that is giving the Permian Basin the tools and resources it needs to reap the benefits of being a state, national and global focal point for energy development.