Our Culture
Blending values to achieve our shared mission
To create an environment where our employees give their best effort every day, we're guided by principles of fairness, opportunity and the chance for every employee to fully participate and be heard. We value diversity of thought in our workplace, and we seek to include and learn from each other as we share our successes and setbacks.

Motivated by the Devon culture, our employees worked on demanding business, operational and ESG priorities in 2020. While demonstrating resilience in managing through the pandemic and related economic crisis, they set the stage to begin integrating two legacy companies when our merger of equals closed in January 2021.

Devon recognized that uniting in a shared culture is crucial to successfully integrating our people, processes, practices and systems. So we began a process to define a culture that blends essential elements from both legacy companies. The process included a survey of all employees, executive interviews, focus groups with vice presidents, and culture conversations with the executive committee and vice presidents.

The resulting blended values – integrity, relationships, courage and results – naturally build on each other to guide us in our work. We believe these values will enable us to become a cohesive company, making a positive and sustainable impact.
High-performing team
We value employees who are open and honest, take ownership and individual initiative, and contribute to our company objectives. Our effort to cultivate a workforce with these qualities starts with offering equal opportunity in all aspects of employment and providing competitive compensation and benefits. To encourage a sharp focus on results, Devon gives every employee an equity stake in our business through annual stock awards.
Devon offers wellness programs that encourage physical, mental and financial well-being. Our employee-friendly practices include flexible work schedules, part-time work, telecommuting and parental paid leave. We modified our work practices at the outset of the pandemic and continue to make adjustments that help employees fulfill work and family responsibilities. Devon senior leaders ultimately believe that relationships lead to results, and both are largely driven by in-person interactions. We continue to monitor our practices and will make adjustments as needed to achieve our business objectives and accommodate employee needs.
Proactive communications

Devon has executed a strategy in recent years to become a leading, returns-driven U.S. energy producer with a strong commitment to improving ESG performance. Our progress continued in 2021 when we welcomed legacy WPX employees, intentionally building blended teams to embed the most effective approaches throughout our business.

With streamlined processes and a flatter organizational structure, Devon employees are empowered to take intelligent risks, make informed decisions and be accountable for their results. To accelerate learning, we've shifted our focus from structured training to experiential learning opportunities. Performance management occurs through frequent conversations focused on alignment, growth and development, so employees know what they need to do to make an impact every day.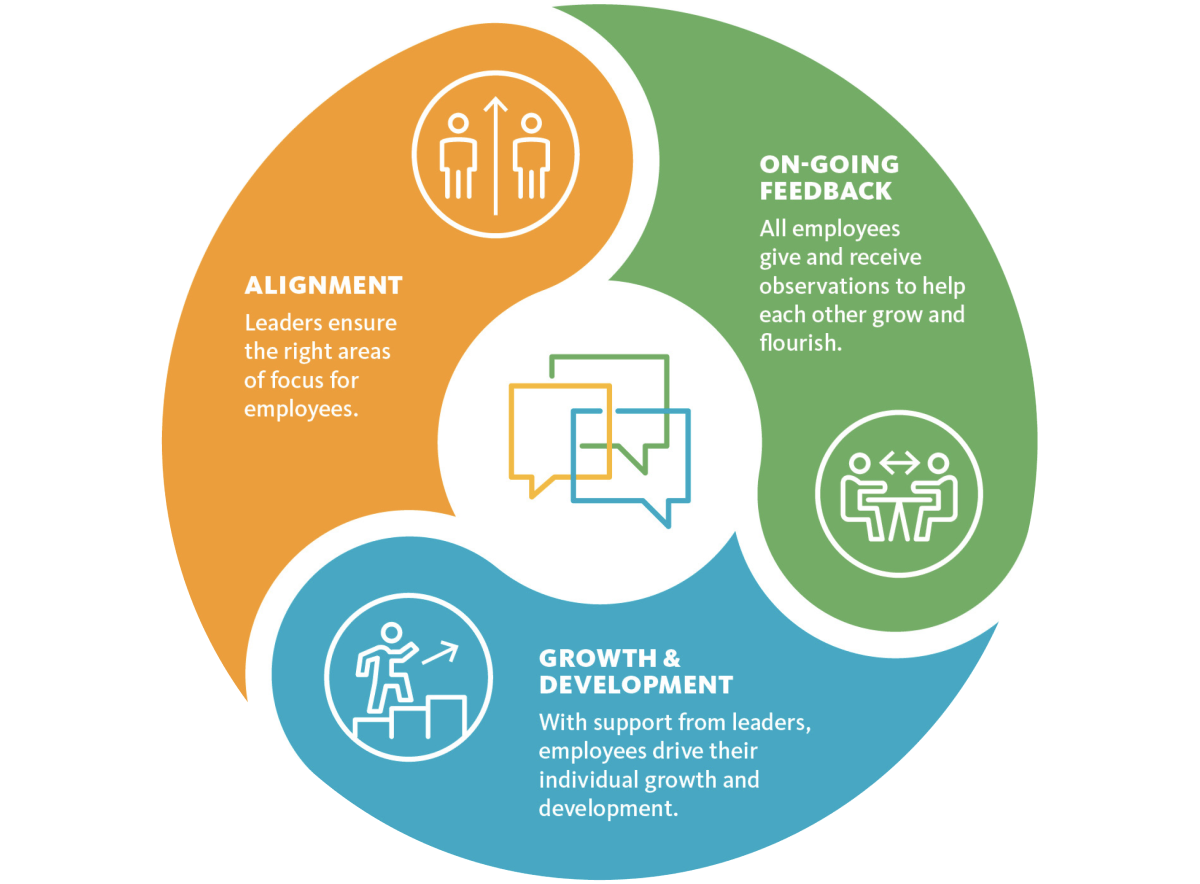 We set clear goals for financial, operational and ESG improvement, and our leaders communicate at the enterprise, business unit, team and individual levels to inform everyone at Devon what we're planning and how we're doing. Our leaders encourage frequent conversations to create clarity, context and accountability, as well as to listen and be responsive to employees.

In addition to internal communications channels, topical surveys help us stay in touch with our employees. These short, focused surveys give us quick results on timely issues, and in 2020 helped us gauge employees' experiences during the pandemic and collect input on their needs. We also conducted a companywide organizational health index survey in 2020 to examine the cultures of each legacy company, identify potential differences and understand what employees would value most as Devon moves forward. We'll continue to use surveys, focus groups and conversations to gather employee feedback in a structured way.

Relationships built on trust are central to the Devon culture and our ability to deliver results.
We communicate proactively, listen carefully and seek diverse opinions that challenge our thinking.

In 2021, we're focused on integrating our legacy organizations, improving team and company performance, adapting to changing market conditions with agility and delivering on our commitments to stakeholders.