Corporate Governance
Effective oversight starts with our board of directors. Devon's board and management consider the interests of all stakeholders over the long term, while seeking to create shareholder value.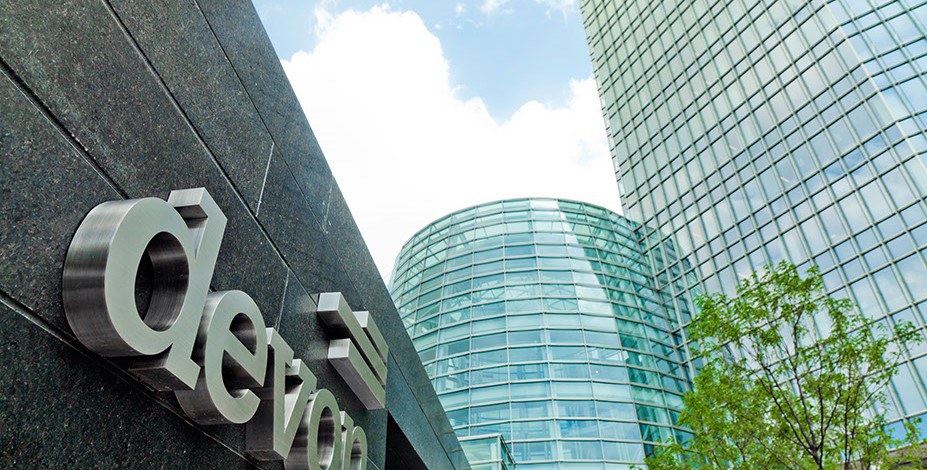 A tone of integrity
Performance and results in the ESG sphere actually begin with G, for governance. Values, goals, strategies and tactics all flow from a leadership structure and team that sets a tone of integrity and high expectations through the way the company is governed.
We begin with Corporate Governance Guidelines that outline the composition, structure, procedures and policies of the board of directors, and the qualifications, responsibilities and compensation of our directors.
A majority of our board members qualify as independent, based on New York Stock Exchange (NYSE) listing standards and Securities and Exchange Commission (SEC) regulations. As of March 2021, eight of 11 board members, including all committee members, qualify as independent.
The full board has primary responsibility for risk oversight of the company, with standing committees dedicated to specific areas of risk: Audit, Compensation, Reserves and Governance, Environmental and Public Policy. As required by these committee's charters, all committee members are independent. In addition, three of Devon's four Audit Committee members possess the audit committee financial expert (ACFE) designation. Brief descriptions of each committee's purpose and responsibilities and links to their charters are available to the right.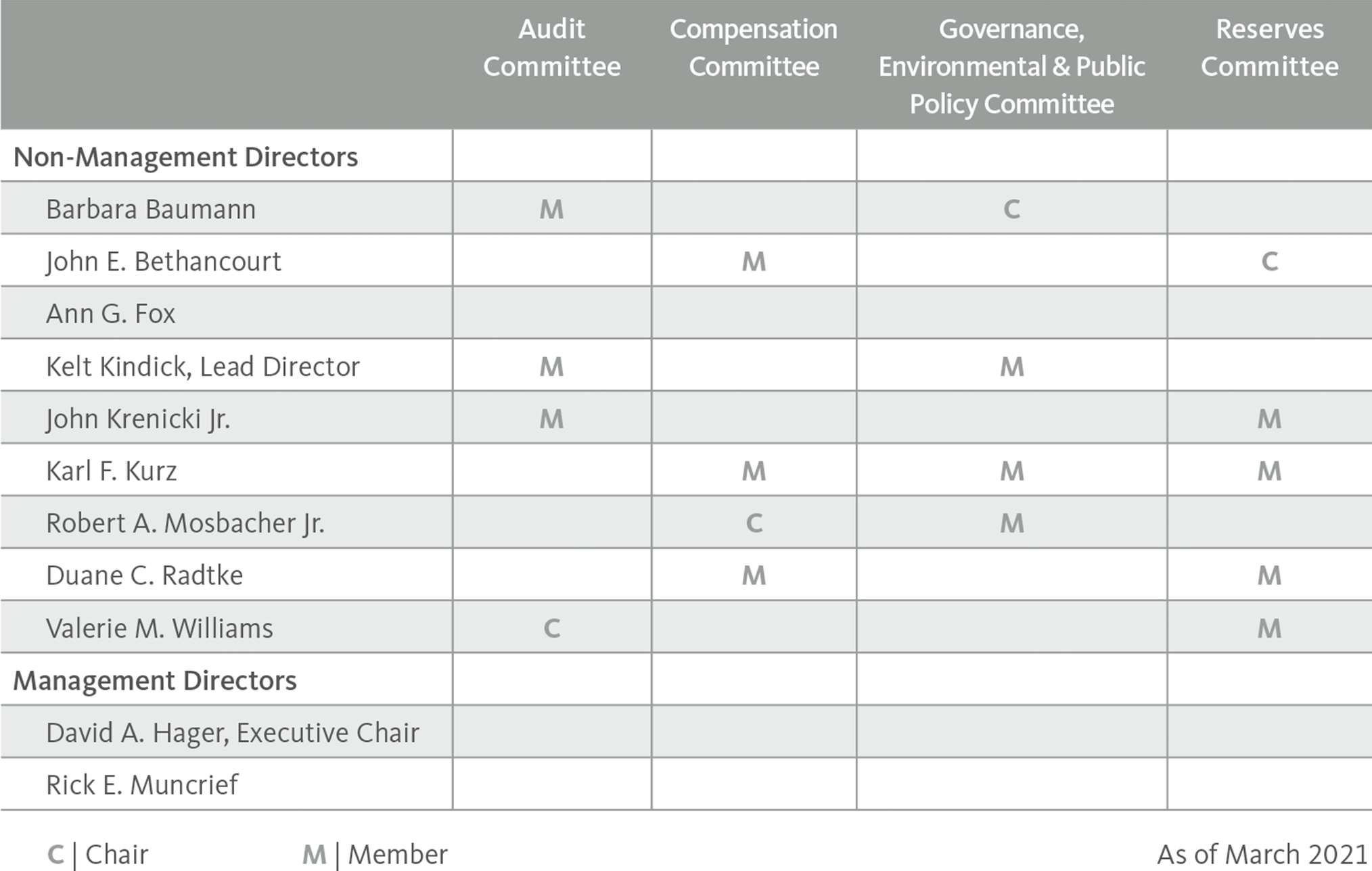 In January 2021, upon closing of the merger with WPX Energy, the board appointed a non-management director to serve in a lead director capacity. Among other responsibilities, the lead director seeks to optimize board performance through regular feedback that ensures the diverse viewpoints of all directors are heard and that a climate of constructive candor is created in which frank and thoughtful discussion occurs.
Attracting, retaining and compensating a diverse board
To ensure a broad view of issues and balanced decision-making, Devon makes it a priority to attract and maintain a diverse and inclusive board. The Nominating Committee actively seeks board members with varying experience and expertise appropriate for our business and industry. Each director brings integrity, accountability, informed judgement, peer respect and high-performance standards to the board. We've advanced diversity in part through board refreshment, with four new directors joining the board following the WPX merger. As of March 2021, three women served on the Devon board. Devon directors range in age from 44 to 72, all under the retirement age of 74 required by the company's bylaws.
Directors are expected to maintain a significant ownership stake in Devon in order to align their interests and actions with the interests of our shareholders. The board determines the compensation of non-management directors annually, based on Compensation Committee recommendations. Compensation for independent directors, which has remained relatively consistent in recent years, is based on market norms and includes a combination of cash retainers and equity awards. Devon executives receive no additional compensation for serving on our board.
Shareholders elect Devon directors at the annual meeting for one-year terms. Under our bylaws, a director who does not receive the required plurality of votes in an uncontested election must offer to resign. This has not happened in the company's 49-year history; our directors received an average approval rating of 96% at our 2020 annual meeting.
Director skills and experience
Our directors have diverse skills, backgrounds and experience, individually and as a group, that Devon has identified as highly relevant for effective management of an upstream energy company. In addition to their skills and experience, our directors are known as strategic thinkers, have high expectations for the company's performance and are attuned to the demands of their board oversight role and good governance practices.
Linking executive pay to performance
Each year, the Compensation Committee determines executive compensation based on its evaluation of the company's performance and the performance of individual executive leaders and the business or organizational units under their supervision. Devon's senior leaders are accountable for generating operating returns by managing our premier asset portfolio, delivering superior execution and exercising discipline in our capital allocation. The leadership team updates the board regularly on our economic and operational risks and opportunities and on our ESG performance. Devon leaders have regularly kept the board informed of our actions to address the volatility in commodity and stock prices and our response to the COVID-19 pandemic.
Our compensation program seeks to ensure a strong tie between company performance and executive pay and is highly aligned with stock price performance. Our compensation philosophy recognizes near-term operational and financial success and encourages decision-making that supports long-term value creation. The objectives of our executive compensation program are to motivate and reward executives for increasing shareholder value; to incentivize achieving near- and long-term objectives without excessive risk-taking; and to attract and retain committed executives capable of leading a large and diversified oil and gas business.
Compensation decisions for 2019 were weighted toward total shareholder returns and operating performance measures. Approximately 90% of the value of total direct compensation awarded to the president and CEO, and an average of about 84% of total direct compensation for the other executives, was delivered through performance bonuses and long-term incentives.
Devon sets challenging annual performance goals to drive continuous improvement, with a highly engaged employee culture focused on innovation, safety, operational excellence, environmental stewardship and social responsibility. Devon surpassed our financial and operational target metrics in 2019, even in the challenging commodity price environment. We increased oil and gas production while reducing capital expenditures, divested our Canadian assets, reduced long-term debt and realigned our long-term cost structure. We also met four of our five performance targets for environmental, health and safety (EHS) measures. We did miss our target for serious incidents and fatalities (recordable SIF rate), which resulted in an EHS performance score of 75% of target, reflected in bonus compensation. Detailed information about our executive compensation philosophy, practices and decisions is disclosed in our 2020 proxy statement.