Corporate Governance
Integrity, accountability and disclosure
Devon recognizes that strong corporate governance is required to maintain our social license to operate. We strive for effective decision-making and risk management as we conduct our business in keeping with our corporate values and ESG responsibilities, serving the interests of our stakeholders.
We've developed an effective corporate governance framework that evolves with our business. Progressive principles and practices guide our board of directors, executive management and workforce in making a positive and sustainable impact.
Our Corporate Governance Guidelines support the long-term interests of the company and our stakeholders by focusing on certain core principles for effective governance of the company. The guidelines cover board composition, policies, procedures and committees. They also provide direction for the recruitment, selection, responsibilities, compensation and evaluation of individual directors. The guidelines are updated from time-to-time to reflect the evolving needs of our company.
Independent board members bring fresh perspectives and diverse skills to their oversight of the company. The majority of Devon's board members qualify as independent, based on New York Stock Exchange (NYSE) listing standards and Securities and Exchange Commission (SEC) regulations. Eleven of 12 (92%) Devon board members qualified as independent as of March 2023.
Among other responsibilities, our non-management chair seeks to optimize board performance through regular feedback to help ensure the diverse viewpoints of all directors are heard, and that a climate of constructive candor is created in which frank and thoughtful discussion occurs.
The full board has primary responsibility for risk oversight of the company, with specific areas of risk delegated to four standing committees: Audit, Compensation, Reserves, and Governance, Environmental and Public Policy (GEPP). All members of the GEPP, Audit and Compensation committees are independent, as required in our Corporate Governance Guidelines, and the members of the Reserves Committee are independent as well.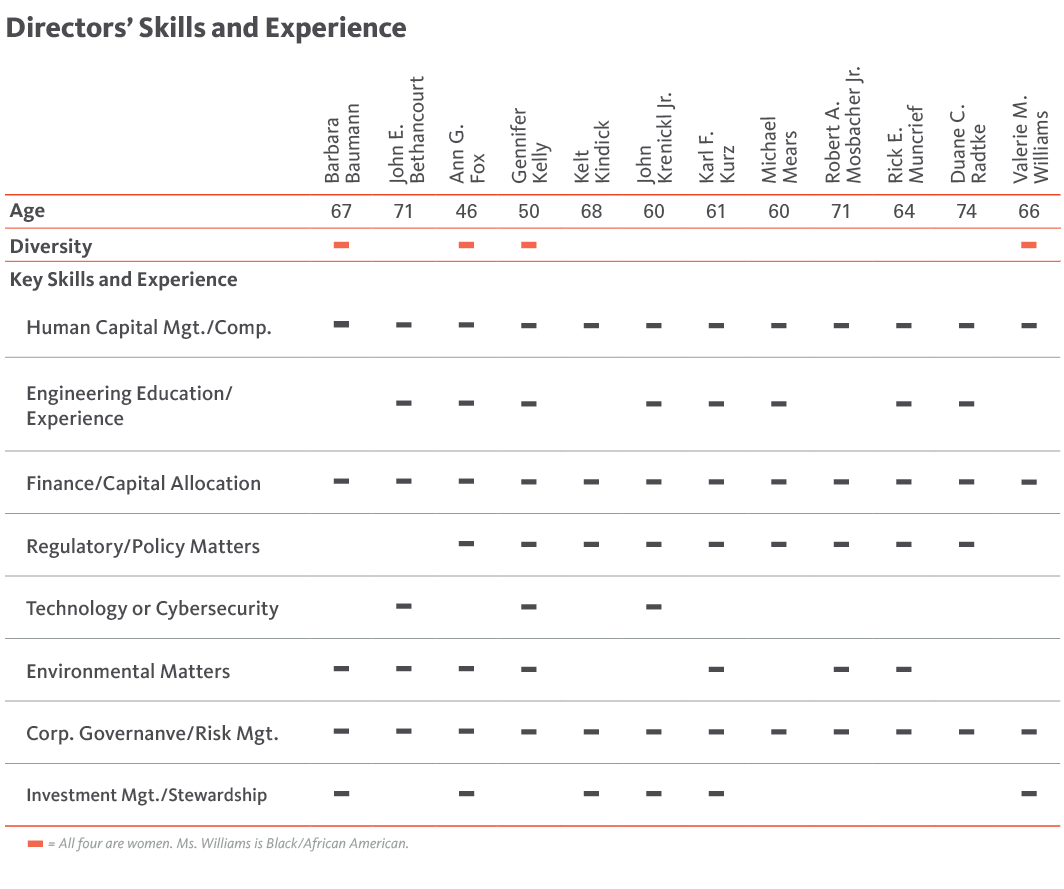 In our first year as a newly merged company, the full board and board committees integrated and aligned their governance approach and adopted best practices from both legacy company boards. The GEPP, Audit and Compensation committees review various aspects of Devon's ESG activities, metrics and reporting, and the full board is involved in assessing our ESG risks.
The GEPP Committee maintains the former Governance Committee's oversight role for corporate governance and for nominating qualified candidates for director positions. Following the merger, its scope incorporated expanded environmental duties and responsibilities, as well as oversight of management's efforts to integrate sustainability into Devon's business and activities. GEPP Committee members regularly hear from Devon leaders and subject matter experts on emissions and other environmental matters, ESG-related stakeholder engagements, public policy developments and our social responsibility programs. The GEPP Committee's endorsement of ESG matters helps inform the company's strategy, plans and priorities, and secure internal alignment.
In 2021, the GEPP Committee's activities included:
Evaluating the ESG profile of our go-forward company
Reviewing Devon's performance on key environmental metrics, including Scope 1 and Scope 2 greenhouse gas (GHG) emissions
Discussing and endorsing the company's environmental targets announced in June 2021 and tactics for meeting the targets
Discussing the contents of Devon's 2021 Sustainability Report and Climate Change Assessment Report with management before their publication
Reviewing and discussing Devon's DEI metrics, and actions and strategy for improving our workforce DEI, with the Compensation Committee and management, reflecting the board's increased emphasis on diversity, equity and inclusion (DEI)
Deep dives into relevant matters are part of each board meeting. External speakers, stockholders and thought leaders were invited to our September 2021 and 2022 board meetings to share information and insights. In 2022, the board continued to focus on ESG performance and tactics for improvement, as well as the company's progress with collecting more detailed ESG-related data.
Board diversity
Our decisions and actions have benefited from informed input from board members with a wide range of experiences, skills and backgrounds, including gender, race and ethnic diversity. Our board considers such diversity to be a key feature of a high-functioning board.
In its role of nominating qualified candidates for director, and in compliance with our Corporate Governance Guidelines, the GEPP Committee seeks to include women and minority candidates in the pool it puts forward for selection, and requires any search firm it engages to do the same.
The GEPP Committee nominates qualified candidates to be Devon directors, seeking factors such as the nominees' integrity and accountability, ability to provide informed judgment, respect from peers and high performance standards.

As of March 2023, our board included four women (33%) and one racially diverse (8%) director, including the chair of Devon's Audit Committee. Current board tenure of approximately 1-13 years provides a balance of fresh viewpoints and continuity. Our directors range in age from 45 to 73. Our board retirement age is 74 for non-management directors.
Shareholders elect Devon directors at our annual meeting for one-year terms. Our bylaws require a director who does not receive a plurality of votes in an uncontested election to offer to resign, which has not happened in Devon's 51-year history. At our 2022 annual meeting, our directors received an average approval rating of 96%.
Board and executive compensation

Under our Corporate Governance Guidelines, non-management directors are expected to have a significant ownership stake in Devon to help align the board's and stockholders' interests with our long-term performance. The board determines non-management director compensation annually based on the Compensation Committee's recommendations. Compensation for our non-management directors, which is based on market norms and includes cash retainers and equity awards, has remained relatively consistent in recent years. In 2022, the Compensation Committee approved non-management directors' participation in Devon's matching gift program for qualifying charitable contributions up to $10,000 annually. Devon employees receive no additional compensation for serving on the board.
Devon focuses on generating positive operating returns by managing a premier asset portfolio, delivering superior execution and exercising disciplined capital allocation. Our executive compensation program seeks to create a strong tie between company performance and executive pay and is closely aligned with shareholders' interests. This pay-for-performance philosophy is intended to motivate near-term operational and financial success as well as to create long-term stockholder value. Total compensation is weighted in favor of long-term incentives to emphasize value creation and stockholder alignment.
Devon's compensation philosophy is also designed to attract and retain highly trained, experienced executives who have the skills, education, business acumen and background to create value in a large and diversified oil and gas business. The primary components of the company's executive compensation program are base salary, a performance bonus and long-term incentives.
Executive compensation is determined annually by the Compensation Committee, which evaluates the performance of the company and of individual executives and the business unit or organization they manage. The leadership team updates the board regularly on our economic and operational risks and opportunities and on our ESG performance.
In determining executive compensation in 2021, the Compensation Committee considered the company's operational and financial achievements and performance relative to our corporate goals. Devon set ambitious goals for financial results, expenditures, oil and gas production, ESG/EHS performance, merger integration and strategic initiatives.
The company outperformed our targets on nearly all 2021 goals on our company performance scorecard. In addition, Devon's share price earned the highest Total Shareholder Return (TSR) of any stock in the S&P 500 Index during 2021, and we achieved the highest TSR in our performance peer group in 2021 (196%) and from 2019-2021 (122%). Based on these results, the Compensation Committee assigned a company performance score of 177%, which led to above target bonuses for our employees (including executives).
To help ensure that management and our board understand the compensation issues that matter to our stockholders, Devon conducts investor outreach throughout the year. During 2021, the company contacted the majority of our top 100 stockholders, interacted with many other stockholders and met with representatives of approximately 50 investors. The Compensation Committee reviews the feedback resulting from this outreach, as well as the most recent advisory vote by stockholders on executive compensation. In 2022, approximately 95% of voting stockholders voted "for" Devon's executive compensation.
Additional information about our executive compensation program is available in the Compensation Discussion and Analysis (CD&A) section of our 2022 proxy statement.