Corporate Governance
Creating shareholder value
Devon recognizes that strong corporate governance is required to maintain our social license to operate. We strive for effective decision-making and risk management as we conduct our business in keeping with our corporate values and ESG responsibilities, serving the interests of our stakeholders.
Devon maintains an effective and functional corporate governance framework that can evolve along with our business. Progressive principles and practices guide our board of directors, executive management and workforce in delivering results with integrity and courage.
Our Corporate Governance Guidelines support the board and management in enhancing stockholder value, consistent with the long-term interests of the company and our stakeholders. The guidelines cover board composition, policies, procedures and committees, and provide direction for the recruitment, selection, responsibilities, compensation and evaluation of individual directors. We revised our Corporate Governance Guidelines in March 2021 to reflect the evolving needs of our post-merger company.
Independent board members bring fresh perspectives and diverse skills to their oversight of the company. The majority of Devon's board members qualify as independent, based on New York Stock Exchange (NYSE) listing standards and Securities and Exchange Commission (SEC) regulations. Eight of 11 (73%) Devon board members qualified as independent as of June 2021.
The full board has primary responsibility for risk oversight of the company, with standing committees dedicated to specific areas of risk: Audit, Compensation, Reserves and Governance, Environmental, and Public Policy. As required by each committee's charter, all committee members are independent.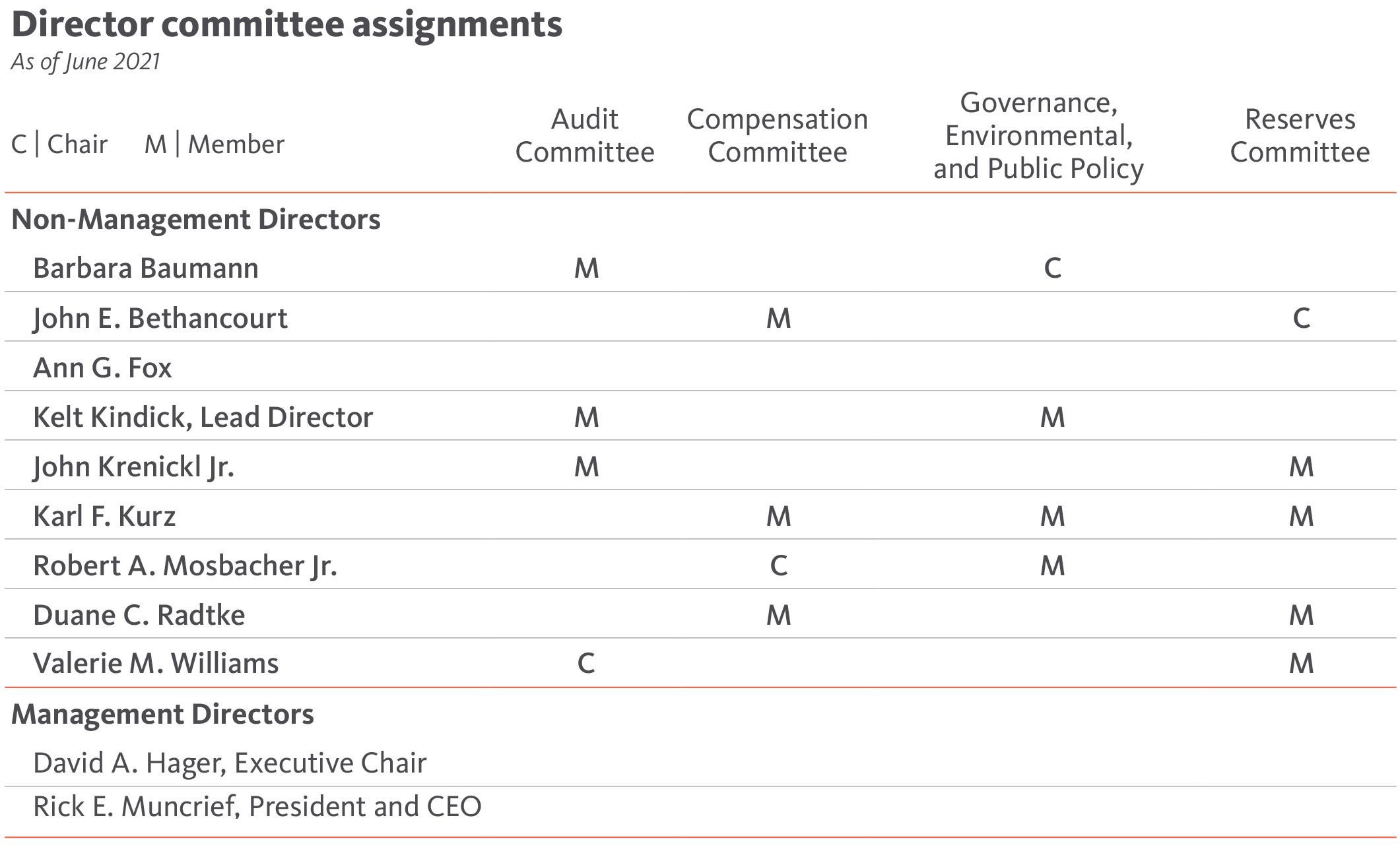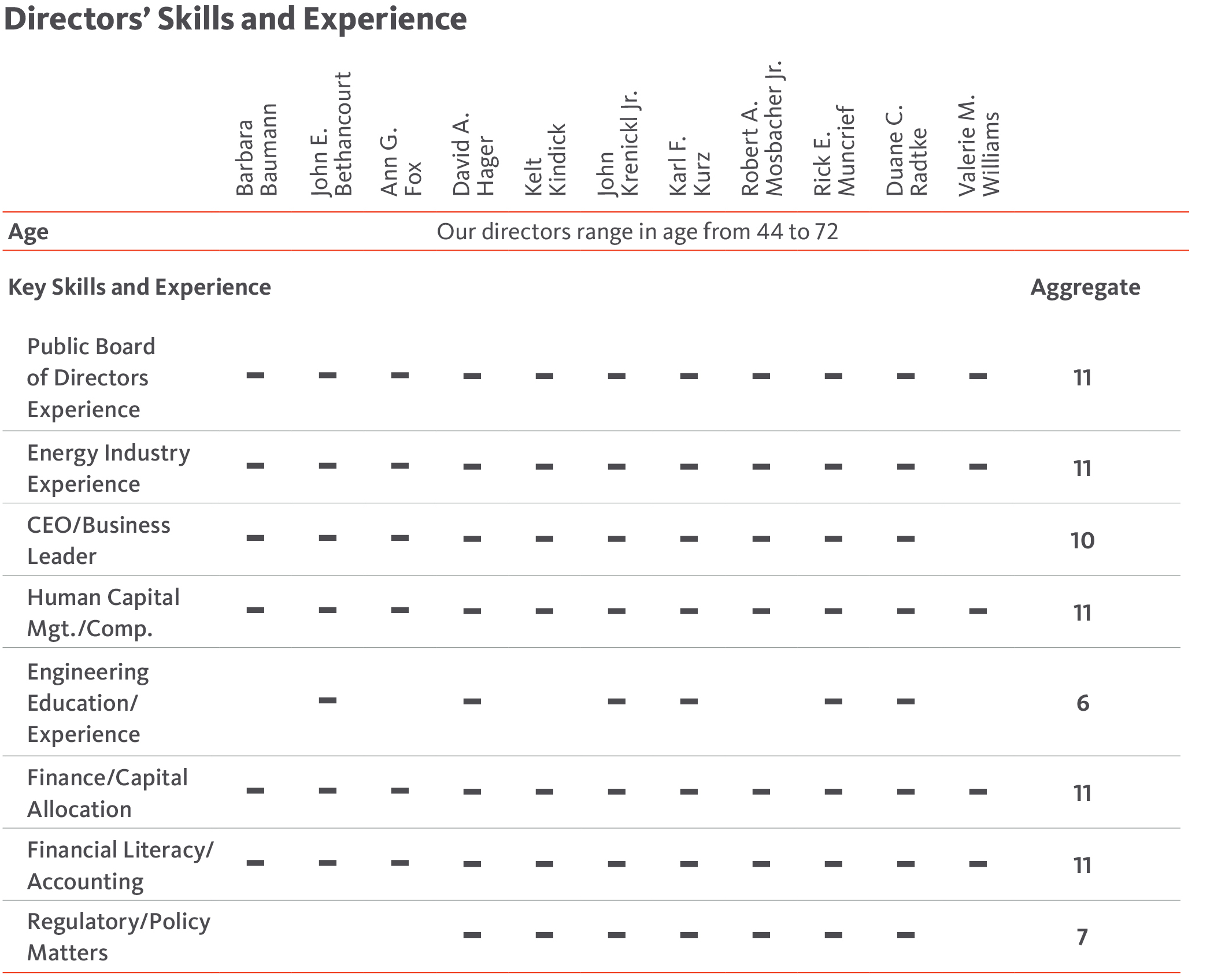 Adopting best practices
Following the merger, directors from the Devon and WPX legacy boards met in collaborative sessions to develop working relationships and identify governance best practices. One of the outcomes was expanding the role of the Governance Committee by establishing the board Governance, Environmental, and Public Policy Committee to oversee EHS, public policy, stockholder engagement and sustainability.
The board established the industry's first fixed-plus-variable dividend strategy and created a board Dividend Committee to assist the board in administering the program, designed to sustainably return meaningful and appropriate amounts of cash to shareholders.
After closing the merger with WPX, the board appointed a non-management director to serve in a lead director capacity. Among other responsibilities, the lead director seeks to optimize board performance through regular feedback to help ensure the diverse viewpoints of all directors are heard and that a climate of constructive candor is created in which frank and thoughtful discussion occurs.
Advancing board diversity
Throughout 2020 and 2021, leaders have regularly updated the board on Devon's post-merger progress related to integrating operations, culture and workforce, as well as addressing the volatility in commodity and financial markets and the ongoing impacts of the COVID-19 pandemic. Our decisions and actions have benefited from informed input from board members with a wide range of experiences, viewpoints and backgrounds. Attracting and sustaining a diverse and inclusive board that can provide thoughtful counsel has long been a priority for Devon.
We've made progress diversifying the Devon board, including electing two women among the five most recent board additions. As of June 2021, three women and one racially diverse director served on our board, and the Audit and GEPP committees were both chaired by women. Our directors range in age from 44 to 72, all below the maximum age of 74 required by our Corporate Governance Guidelines.
Shareholders elect Devon directors at the annual meeting for one-year terms. Our bylaws require a director who does not receive a plurality of votes in an uncontested election to offer to resign. This has not happened in the company's 50-year history; our directors received an average approval rating of 96% at our 2021 annual meeting.

To align the board's and stockholders' interests with our long-term performance, independent directors are expected to have a significant ownership stake in Devon. The board determines the compensation of non-management directors annually based on the recommendations of the Compensation Committee. Compensation for our non-management directors, which has remained relatively consistent in recent years, is based on market norms and includes a combination of cash retainers and equity awards. Devon executives receive no additional compensation for serving on our board.
The GEPP Committee nominates qualified candidates to be Devon directors, seeking factors such as the nominees' integrity and accountability, ability to provide informed judgment, respect from peers and high performance standards.


Pay-for-performance philosophy
Devon strives to own and effectively operate premier assets while maintaining financial strength and flexibility. Our executive compensation program seeks to ensure a strong tie between company performance and executive pay and is highly aligned with shareholders' interests. This pay-forperformance philosophy is intended to motivate near-term operational and financial success as well as create long-term stockholder value, with total compensation weighted in favor of long-term incentives (LTI) to emphasize value creation and shareholder alignment.
In addition, our compensation philosophy is designed to attract and retain highly trained, experienced and committed executives capable of creating value in a large and diversified oil and gas business. The primary components of Devon's executive compensation program are base salary, a performance bonus and long-term incentives.
To determine the compensation for our executives, each year the board's Compensation Committee evaluates the performance of the company and of individual executives and the business unit or organization they manage. Devon's senior leaders are accountable for generating operating returns by managing our premier asset portfolio, delivering superior execution and exercising discipline in our capital allocation. The leadership team updates the board regularly on our economic and operational risks and opportunities and on our ESG performance.
In 2020, the Compensation Committee considered Devon's performance relative to our corporate goals, including our Total Stockholder Return (TSR) compared to our peers and executives' individual and business unit or organizational performance. In addition, we set challenging corporate goals for financial results, expenditures, oil and gas production, overall value of our risked resource portfolio, ESG/EHS performance, stakeholder alignment and our COVID-19 response.
Devon met or exceeded our 2020 corporate goals other than our EHS target rate for recordable serious incidents and fatalities (SIF), which is a component of our EHS goal. Notwithstanding this high performance, the Compensation Committee chose to acknowledge the challenging industry and broader market conditions by reducing the performance bonus from 153% of target to 75% of target. In addition, approximately 89% of the value of total direct compensation awarded to the CEO, and an average of approximately 82% of the value of total direct compensation awarded to the other named executives, was delivered through performance bonuses and LTI.
In 2020, 63% of voting stockholders voted "for" our executive compensation, significantly lower than the say-on-pay votes for the previous three years. Devon increased our outreach with our institutional investors to seek feedback on our proxy disclosure and solicit their input on proxy voting items. We responded and took action on their primary critiques and reported on them in detail in the Compensation Discussion and Analysis (CD&A) section of our 2021 proxy statement. As a result, 94% of voting stockholders voted "for" the say-on-pay vote at the 2021 annual meeting.