Climate Change
Devon is accountable to our stakeholders to assess the risks to our business in a carbon-constrained future, at the same time helping to meet the ongoing global demand for hydrocarbon energy.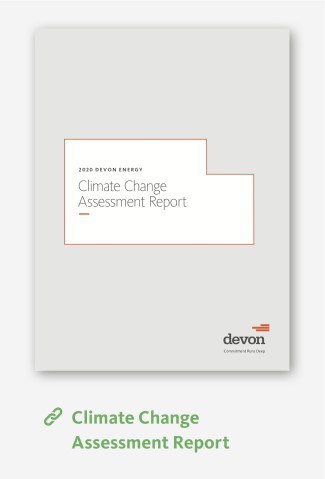 Oil and natural gas are vital to our way of life. The world relies on these resources to power the basic systems of our daily lives – transportation, heating and cooling, lighting, manufacturing, agriculture, telecommunications and technology. Many of the products we use every day are made from plastics and compounds derived from oil and natural gas, which also fuel the machinery needed to manufacture these materials.
At Devon, we're proud to find and produce these valuable commodities and, through the work our employees do every day, to contribute to local, national and global economies. We also recognize that the economic benefits of our industry must be balanced with care for the environment. Devon is focused on delivering strong returns to our shareholders while continuously improving our environmental performance, with particular focus on climate change.
The U.S. Energy Information Administration projects oil and natural gas will continue as leading sources of energy worldwide for decades to come. For example, EIA's 2020 energy outlook projects in the transportation sector, gasoline and diesel fuel will account for 74% of total consumption in 2050. Electricity will grow quickly in transportation but EIA projects it will reach only 2% of total consumption in 2050. In electricity generation,EIA projects that renewables will continue to grow rapidly, but won't overtake natural gas until 2045.
Devon will continue to produce the oil and gas the world needs in a safe, environmentally responsible and ethical way. We'll do this because being a good neighbor and always doing the right thing are two of our core values. It's also important for the future of our business – and another core value, delivering results – that we plan for the risks associated with the energy transition and climate change.
Assessing and reporting our climate change-related risks
Climate change-related risks receive formal and ongoing consideration in Devon's enterprise risk management process. The company regularly models numerous regional and macrolevel scenarios – including changes in regulations or market conditions, acquisitions and divestitures – to test the strength of our portfolio and resources. Each year, the modeled scenarios inform the strategic decision-making of Devon's executive committee and board of directors that culminates in Devon's annual long-range plan. We reported on these risks in our 2018 Climate Change Assessment Report, which was prepared with a leading third-party consultant, ICF.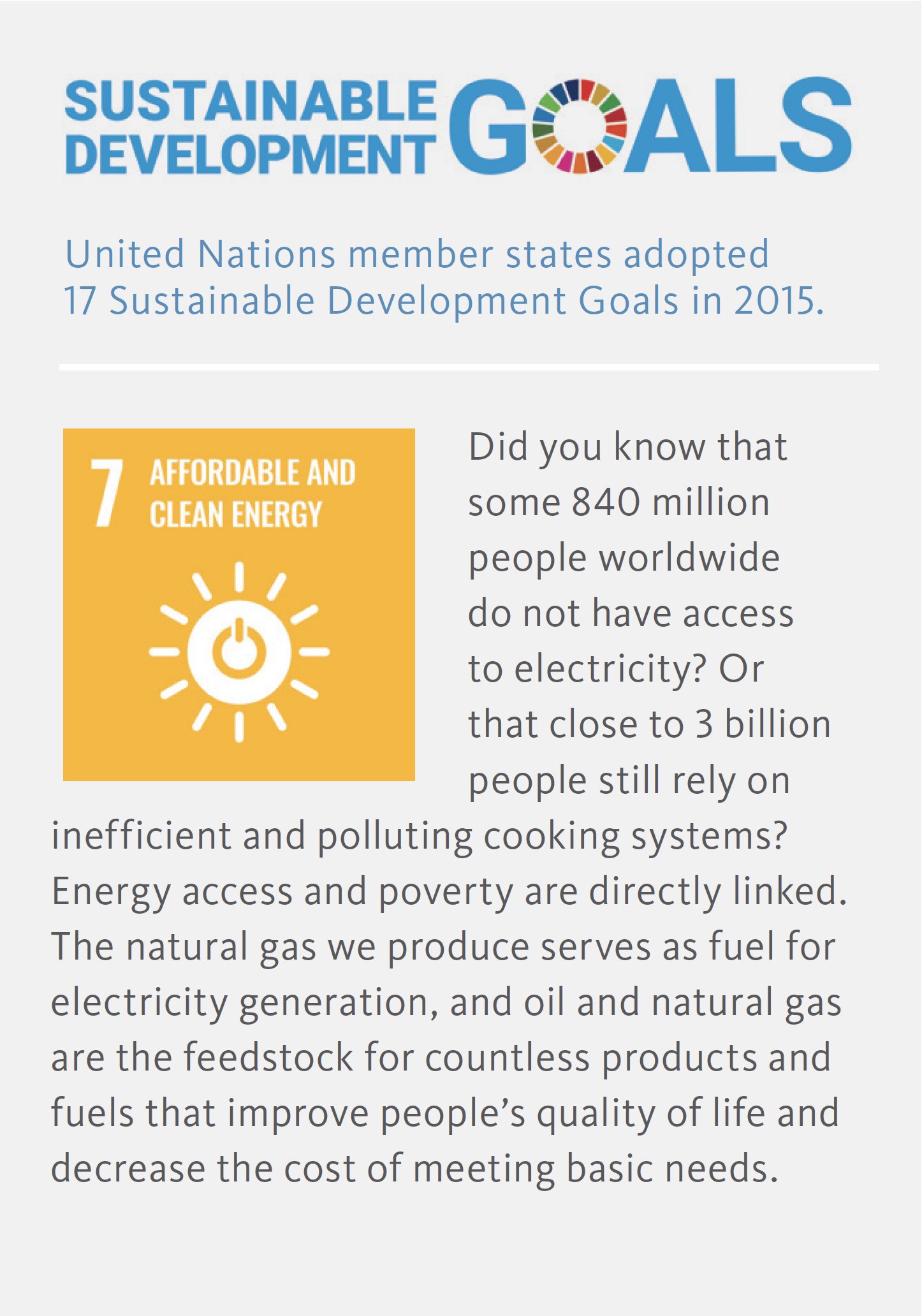 In our updated 2020 Climate Change Assessment Report, which was reviewed and approved by our board of directors, we considered material changes to our portfolio, including the divestment of our assets in the Canadian oil sands and the Barnett Shale, as well as changes to pricing scenarios. We again retained ICF to provide updated scenario analyses, including the International Energy Agency's (IEA) Sustainable Development Scenario, which targets a rise in global temperatures to "well below 2°C". In addition, we retained Global Affairs Associates to enhance the company's alignment with the recommendations of the Task Force on Climate-related Financial Disclosure (TCFD), an international, multi-industry-led initiative launched to develop recommendations for voluntary disclosure of climate-related risk.
The assessment determined that oil and natural gas will remain vital to meeting global energy demand, even in the carbon-constrained future scenarios, and that Devon's portfolio of assets has the characteristics to be resilient in these scenarios. Additional conclusions included:
Model results indicate that Devon's current portfolio is likely to be resilient, even in various low carbon scenarios.

The changes to our portfolio since the 2018 analysis – exiting Western Canada and the Barnett – have made it more resilient in low oil and natural gas price scenarios.
Devon's disclosure practices for the governance, management and disclosure of climate-related risks and opportunities are aligned with the recommendations of the TCFD.
Proactively managing climate-related risks and opportunities
We're addressing climate change-related risks proactively in our environmental, operational and governance practices. We believe energy efficiency and conservation are the most immediate and cost-effective ways to reduce emissions, as well as innovation and operational excellence. To reduce methane emissions, we established a voluntary, company-specific methane intensity target of 0.28% or lower by 2025. Setting this public target requires us to pinpoint sources of methane emissions by implementing reduction technologies and work practices that go beyond regulatory requirements. Achieving the target is a component of executive and employee compensation, as is short term emissions performance. To further engage our workforce in improving our air emissions performance, we have a nonmonetary recognition program for all employees who improveenergy efficiency and/or reduce greenhouse gas emissions by applying technology.
Devon closely monitors climate-change impacts in the market and policy arenas, and we're prepared to adapt our business if needed. We're committed to continuing dialogue with our board of directors, shareholders and other stakeholders about our climate change-related risks and opportunities. Our industry will play a pivotal role in delivering global energy for generations to come, and Devon is embracing change to be part of that future.