Workforce
Our culture is guided by our core values and a shared mission. We seek to hire the best people and expect them to do the right thing, to be team players and good neighbors, and to deliver results.

To create value for stakeholders, our employees must be dedicated to continuously improving our business, developing innovative solutions and overcoming the technical challenges of finding and producing oil and natural gas. Learning through work, training and development, our employees are encouraged to expand their knowledge and skills, share their expertise and apply their creativity. We have flexible work practices and wellness programs that encourage physical, mental and financial well-being, with a goal of enabling employees to focus on doing their best work.
Devon seeks to create a culture of integrity, mutual trust and accountability. In so doing, we promote an inclusive, diverse and respectful work environment brimming with different perspectives. Our employees embrace their roles and motivate each other to be their best. Innovation wins over complacency as employees work on new ideas aligned with our goals and share successes and failures alike as they learn and grow.
We set clear goals for financial, operational and ESG improvement, and we regularly communicate our progress with employees. Our leaders communicate at the enterprise, business-unit, team and individual levels to ensure everyone at Devon knows what's needed to succeed and how we're doing.
In its oversight role, the Devon board of directors receives updates on succession planning, compensation metrics, pay equity, performance and other key workforce issues.
---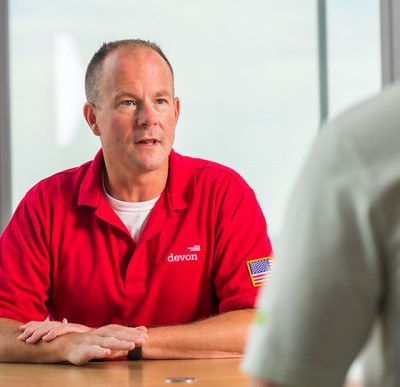 Layne Wroblewski
Manager, Tax
One of the many ways to improve Devon's financial outlook is to effectively manage the local, state and federal taxes the company pays in the course of our business. That's a significant charge for Layne and his interdisciplinary, results-oriented team, which administers the company's sales and property tax portfolio. Layne and his team also work with Devon's Government Affairs team and industry trade organizations on legislation, regulations and policies that impact state and local taxes. "Devon invests in our communities, and we value the social license where we operate," Layne said. "We try to live up to our core value of being a good neighbor. Our sales and property tax disciplines involve working directly with these communities, and I'm proud of the good reputation we've built within those taxing jurisdictions."
---