About Our Report
Our company
Devon Energy (NYSE: DVN) is pleased to present our 2023 Sustainability Report highlighting our environmental, social and governance (ESG) performance and our ongoing efforts to improve in all these areas. We're driven to deliver industry-leading results while being a good neighbor, valued and effective community partner, responsible environmental steward and supportive, caring employer.

We're proud to be a leader in the energy industry, producing oil and natural gas that are essential to lives and livelihoods around the world. Oil and natural gas allow us to house and feed our families, heat and cool our indoor spaces, travel, manufacture necessities and carry out other essential activities. Devon produces valuable commodities that are fundamental to society, and we do so in a safe, environmentally responsible and ethical way, while striving to deliver strong returns to shareholders.

Based in Oklahoma City, Oklahoma, Devon employs about 1,800 people. Every day, our actions are guided by our values of integrity, relationships, courage and results as we work to earn our social license to operate and the trust of our stakeholders. We believe these values are core to being a cohesive company and making a positive and sustainable impact.
Materiality assessment
This report reflects our commitment to accountability and transparent reporting of our ESG progress. It covers the most material policies, programs and performance related to our ESG efforts, as determined in a comprehensive materiality assessment completed in the second quarter of 2022 to identify the most relevant and impactful performance areas for Devon and our key stakeholders.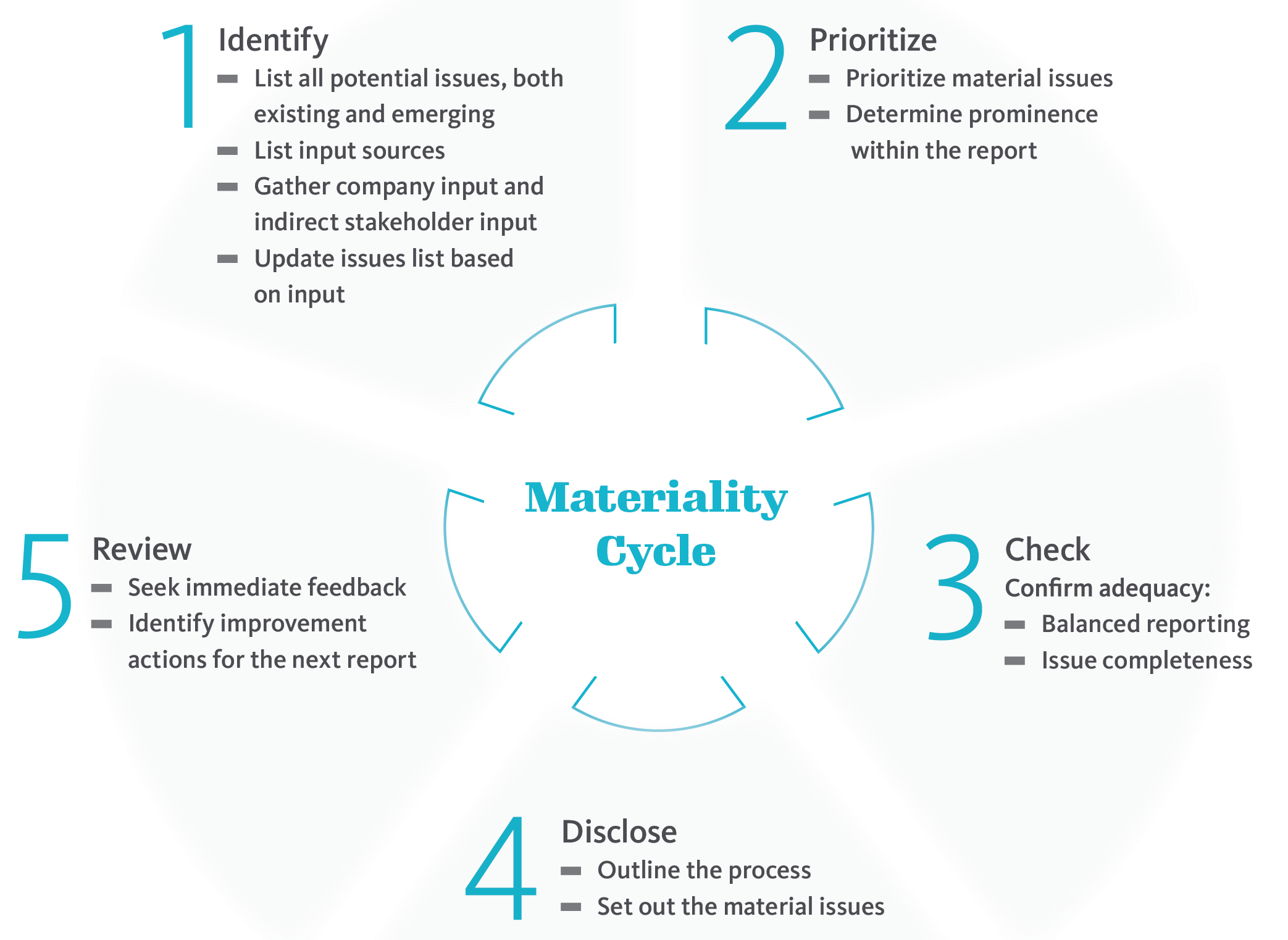 The materiality assessment, facilitated by a third-party ESG consultant, followed a process recommended by the Oil and Gas Industry Guidance on Voluntary Sustainability Reporting, published jointly by the International Petroleum Industry Environmental Conservation Association (IPIECA), the American Petroleum Institute (API) and the International Association of Oil & Gas Producers (IOGP). The assessment process included:
In-depth, one-on-one interviews with Devon's chief executive officer, chief operating officer and other executive committee members
One-on-one interviews with key external stakeholders

Survey of internal subject matter experts and key ESG reporting stakeholders

Peer benchmarking

Reporting framework gap analysis

Review of external stakeholder materials, such as assessments from Sustainalytics, ISS, Moody's Vigeo Eiris, RobecoSAM and others

The process also included a full-day, in-person workshop at Devon's corporate headquarters. Participants included leaders of Devon's operations, sustainability, environmental, safety, corporate governance, investor relations, human resources, legal, corporate communications, community relations, accounting, enterprise risk management and internal audit departments. Leaders identified key stakeholders and material areas for reporting and mapped them on a materiality matrix. The workshop included discussion and agreement on Devon's refreshed ESG reporting vision, strategy and guiding principles for future reporting.
Devon evaluated common reporting frameworks, including those of IPECA, the Task Force on Climate-related Financial Disclosures (TCFD), the Sustainability Accounting Standards Board (SASB), the United Nations Sustainable Development Goals (SDG) and the Global Reporting Initiative (GRI). The U.S. Securities and Exchange Commission's (SEC) proposed rule for Enhancement and Standardization of Climate-Related Disclosures for Investors was also reviewed. Based on this evaluation, the contents of this report are mapped to IPIECA, TCFD, SASB, SDGs and the American Exploration and Production Council (AXPC) Framework.

Based on this assessment process, this report focuses on the following top material areas of Devon's ESG performance: emissions, climate change, public advocacy, corporate governance/enterprise risk management, water, workforce safety, cybersecurity, and diversity, equity and inclusion (DEI). Additional topics of reporting interest to Devon and our stakeholders include: land conservation/biodiversity, stakeholder engagement, corporate culture/human capital, employee retention, road safety and driving, emergency preparedness, spill prevention and communities/giving.

The 2022 materiality assessment built on the initial materiality assessment completed in 2018, as well as periodic reviews of material areas in subsequent years to help ensure our reporting remained relevant and meaningful for our stakeholders.