About Our Report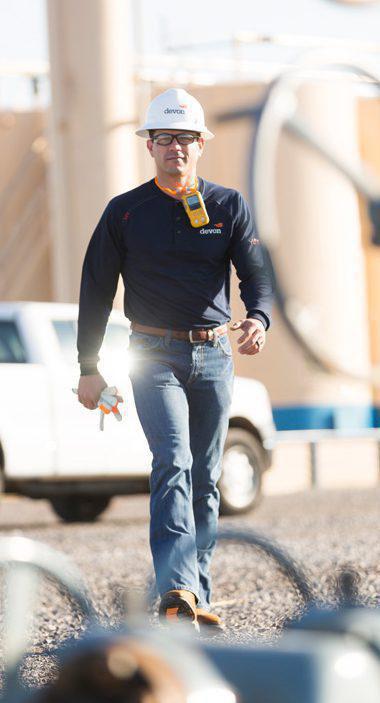 Devon Energy is proud to present our 2019 Sustainability Report, highlighting our efforts to deliver industry-leading results, while setting the standard as a good neighbor, valued community partner, caring environmental steward and model employer.

We're also proud to be a leader in the energy industry, producing oil and natural gas products that are essential to lives and livelihoods around the world. We produce valuable commodities that are fundamental to society, and we do so in a safe, environmentally responsible and ethical way, while striving to deliver strong returns to shareholders.

Based in Oklahoma City, we employ about 1,800 men and women operating under the motto: Commitment Runs Deep. We take this to heart and apply it to everyone who has a stake in our success – investors, employees and neighbors alike.

This report reflects our ongoing commitment to transparency in reporting our environmental, social and governance (ESG) performance. It covers the most material policies, programs and performance related to our ESG efforts, as determined in a thorough materiality assessment described within.

Unless otherwise noted, the information reported applies to our operated assets in the U.S. in 2018, and excludes assets in Canada, sold effective Jan. 1, 2019, and North Texas, slated for sale or spin-off as announced in February 2019.
Materiality Assessment
The contents of this report were determined through a professional materiality assessment, conducted in 2018, to identify the most relevant and impactful performance areas for Devon and our key stakeholders. Facilitated by a third-party sustainability consultant, the assessment followed a process as recommended by the Oil and Gas Industry Guidance on Voluntary Sustainability Reporting, published jointly by International Petroleum Industry Environmental Conservation Association (IPIECA), the American Petroleum Institute (API) and the International Association of Oil & Gas Producers (IOGP). The process included in-depth, one-on-one interviews with Devon's chief executive officer (CEO) and other executive committee members, and an in-person workshop with leaders of Devon's operations, environmental, safety, corporate governance, investor relations, human resources, supply chain, legal, government affairs, corporate communications and community relations departments. Leaders identified key stakeholders and material areas for reporting and mapped them on a materiality matrix. Devon also evaluated common reporting frameworks, including those of IPIECA and Global Reporting Initiative (GRI).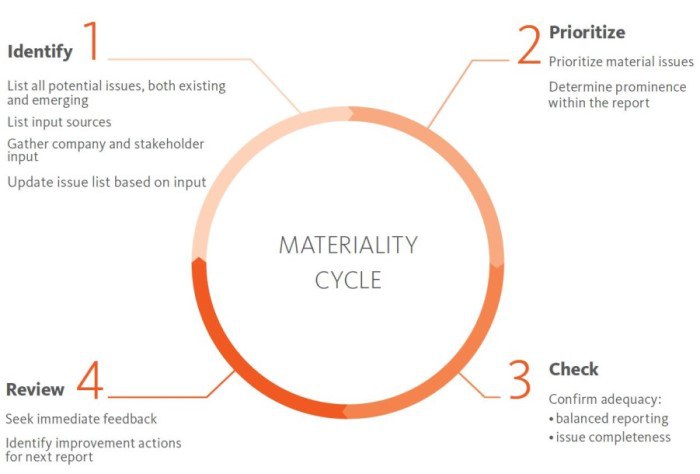 The materiality assessment included a third-party review of external stakeholder materials such as assessments from Institutional Shareholder Services, Sustainalytics, MSCI and JUST Capital, plus a benchmarking study of peer-company sustainability reports.
As a result of this examination, this report is informed by common reporting frameworks and focuses on the top material areas identified during the materiality assessment process.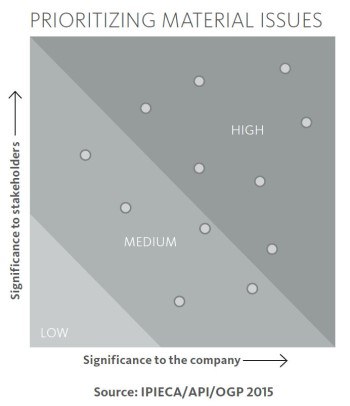 Safety
Greenhouse gas emissions
Land conservation
Water use and recycling
Shareholder engagement
Political activity
Climate change

Talent management
Employee wellness
Inclusion and diversity
Community engagement
Business innovation

Note that the concept of materiality used in the preparation of this report is not meant to correspond to the concept of materiality associated with disclosures required by the U.S. Securities and Exchange Commission.

We're committed to continuously improving our environmental, social and governance performance and communicating it transparently. We invite you to give us feedback on how we're doing by using our stakeholder contact portal.