Public Advocacy
Devon wants our diverse stakeholders to understand the economic impacts and trade-offs of public policies. To that end, we engage in discussions about regulation, taxation, trade, jobs and business-focused issues.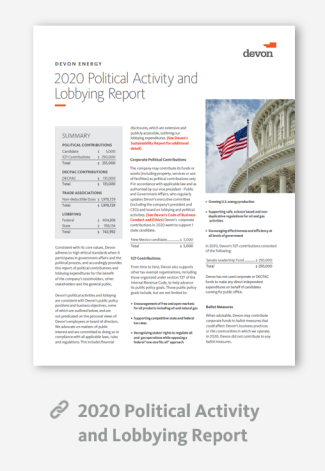 As a leading U.S. independent oil and natural gas producer, Devon participates directly in local, state, national and global economies. We have a responsibility to advocate for laws and rules that meet societal and business needs.
As we strive to operate in a safe, ethical and responsible manner, we're committed to fulfill our advocacy role in compliance with all applicable laws, regulations and rules. To assure stakeholders of adequate oversight, the governance committee of our board of directors reviews all expenditures related to lobbying, political activities and trade associations.
Devon makes all required financial disclosures and publishes a comprehensive annual Political Activity and Lobbying Report that covers expenditures for corporate political contributions, trade association dues, 527 contributions, federal and state lobbying, and the Devon Energy Corporation Political Action Committee (DECPAC). We have steadily increased the information we provide in the lobbying report in response to stakeholder feedback, and in the 2019 report we added a disclosure of the names of all trade associations we belong to and the non-deductible membership dues we pay. In recent years, we've reduced our advocacy and lobbying expenditures as part of Devon's overall cost-reduction efforts.
Important decisions about energy and the economy require accurate information and thoughtful deliberation at all levels of government. Today, climate change, access to resources on federal lands and talk of a ban on hydraulic fracturing are just a few of the issues under public debate that could directly impact our business. Devon informs and engages policymakers, our employees and the public as we advocate for principles and positions in regulatory and legislative proceedings. To make our views known, Devon participates in business coalitions, industry associations, trade groups and advocacy organizations. We share information with our employees to aid their discussions of industry issues with their friends and neighbors, and we encourage them to vote.
Devon employees are active in industry associations such as the Petroleum Alliance of Oklahoma, New Mexico Oil and Gas Association (NMOGA), Texas Oil and Gas Association (TXOGA), the Petroleum Association of Wyoming (PAW), American Exploration and Production Council (AXPC) and the American Petroleum Institute (API). As one example, an employee on our health and safety team is active on API's Occupational Safety and Health Subcommittee, which proposed a voluntary safety program to elevate the overall safety performance of the onshore exploration and production industry. We're proud to have a Devon representative sharing our values and contributing to industry best practices on this important industry committee.