Environment
Protecting air, water, land and wildlife
Devon is committed to doing what's right for the environment. We want to be a good neighbor, a trusted partner and a responsible, competitive operator as we produce oil and natural gas to help meet global demand. We believe exemplary environmental performance is essential to managing risk and developing forward-looking business opportunities, with the aim of being successful throughout and beyond the energy transition.
To continuously improve our environmental performance, Devon is proactive and results oriented. We consider the potential impacts of our operations when planning activities and making decisions. We strive to comply with all applicable environmental laws and regulations, often going above and beyond what's required. In the process, Devon incorporates technology, tools and techniques that enable us to minimize or avoid effects on air, water, land and wildlife.
We're committed to working with contractors who share our commitment to environmental stewardship, and by 2023 contractors who perform work on Devon locations will begin undergoing annual assessments of their environmental, social and governance (ESG) performance in key areas. Devon requires our contractors to employ personnel who are adequately trained to perform environmentally sound work and have programs to comply with applicable environmental laws, rules and regulations. Contractors as well as employees have responsibility to stop work to prevent spills or other environmental issues.
Our strong commitment to environmental stewardship has enabled us to establish a track record of performance improvements. One of our top priorities is to reduce our greenhouse gas (GHG) and methane emissions, and we've documented this long-standing focus by responding to the CDP climate change survey for 17 consecutive years. We've been at the forefront of water conservation in our industry for almost two decades, and have responded to CDP's water survey since its inception eight years ago. We also take great care to preserve the landscape and protect wildlife habitat and cultural resources in areas surrounding our operations.
Devon tracks specific metrics for GHG and methane emissions, flaring, spills, energy use and water use. We share this information in this report and other public disclosures to meet stakeholders' expectations of transparency and accountability. For additional metrics and details on our environmental practices, please refer to our 2021 CDP Climate and CDP Water Responses.
Devon's new environmental performance targets
We're improving how we produce and deliver the oil and natural gas the world needs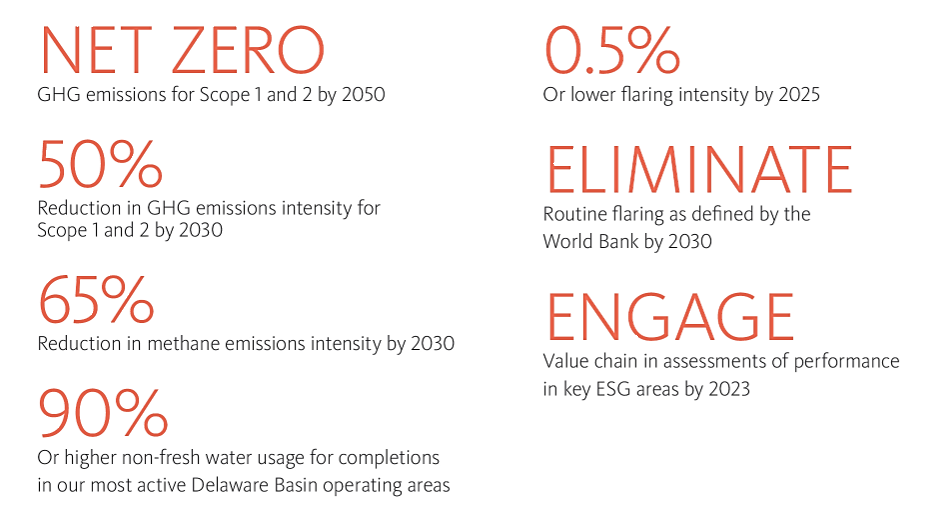 Increasing emphasis on governance
We have a strong organization in place to manage environmental performance, from our board of directors to our field-level EHS and operations teams. In recent years, we've updated our governance practices to elevate EHS oversight and discussions, including those related to climate change and the energy transition. In 2021, we recalibrated the Governance Committee to become the Governance, Environmental, and Public Policy (GEPP) Committee of the board to sharpen our focus on environmental policies and oversight of management's efforts to integrate sustainability into our business activities. The GEPP Committee also nominates candidates for our board, establishing a close connection between corporate governance and sustainability. As a component of executive compensation, environmental results included in our corporate goals are reviewed by the board's Compensation Committee. In addition, at least five Devon directors have an educational background or direct work experience in environmental matters.
At the executive level, Devon's executive vice president and chief operating officer (COO) is accountable for our environmental programs and performance. To further emphasize results, in 2021 Devon created the new position of vice president of ESG and EHS, reporting to the COO. We based this role on a similar one at WPX Energy as part of integrating best practices of both legacy companies.
Devon's governance structure includes the ESG Steering Committee that engages with our executive committee, the GEPP Committee and the full board on our environmental performance, risks, opportunities and commitments.
Operations ownership
Our EHS Council, made up of business unit and operations leaders, plays a lead role in protecting our social license to operate and advancing our culture of environmental stewardship. The council sets environmental strategy and goals, tracks performance and evaluates the effectiveness of our environmental policies, protocols and practices. The group also reviews environmental incidents and near misses, develops corrective actions as needed and shares best practices to continuously improve our environmental performance. Council members hold regular roundtable discussions with field production leaders to help them stay current with the rapid evolution of stakeholder expectations about climate change and environmental performance.
The Devon EHS Management System, developed by the council, includes an environmental management element covering assessments and continuous improvement programs. Our environmental professionals work closely with Devon business leaders to promote environmentally sound operations that comply with all applicable laws, regulations and company policies.
To position Devon for long-term success, the council reviews emerging EHS and ESG issues, as well as proposed laws and regulations and their potential financial, operational and reputational impact on the company.
In 2020, Devon met goals recommended by the EHS Council and set by the board, to improve our lost spill rate and fugitive emissions performance compared to 2019. Following our merger in January 2021, we integrated leaders from both legacy companies into our council and began assessing and integrating environmental best practices of both legacy companies. We set 2021 EHS goals to further reduce flaring intensity, increase voluntary emissions inspections and reduce our total spill rate. Additional EHS team priorities in 2021 are to merge legacy company environmental management systems and concentrate our EHS team on leading indicators and critical initiatives like our newly established environmental performance targets.
Shared responsibility
Our values and operations standards reinforce the responsibility of each Devon employee and contractor to take ownership of environmental performance. We expect employees and contractors to demonstrate care for the environment, plan ahead, participate in environmental programs, recognize positive attitudes and behaviors, and communicate openly.
To underscore these expectations, Devon's corporate scorecard includes annual environmental performance targets that affect every employee's compensation. By meeting our targets for improving our lost spill rate and fugitive emissions in 2020, employees made a positive contribution to our EHS score and compensation.
We're proud of the progress we've made in reducing air emissions, using less fresh water and more recycled water in our operations, preventing spills, protecting the land and improving transparency through reporting. But we know there's more progress to be made and we'll keep challenging ourselves to do better.


---