Employee Wellness
We help employees improve their physical, mental and financial well-being, clearing the way for them to be focused and effective. Prevention, convenient tools and high-quality programs are hallmarks of Devon's approach to wellness.


Strong productivity and engagement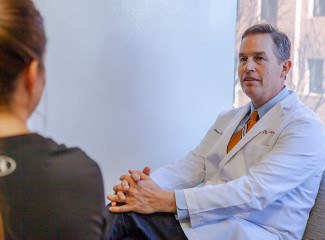 Devon has long recognized that healthy, happy employees are more likely to have the focus and productivity needed to deliver results. We first invested in formal programs to help employees achieve physical, mental and financial well-being in 2012. Since then, we've experienced strong productivity and engagement, low absenteeism and high retention rates. In addition, the combination of our wellness programs and generous health care benefits has helped keep Devon's medical insurance premium costs flat or below national rates of increase, excluding large one-time claims. Best of all, employees tell us that they've improved their health and changed their lives with the help of our wellness offerings. Devon is maintaining the most effective core programs, even while cutting overall costs, because we understand the positive impact wellness has on our workforce and our business.
Devon is maintaining the most effective core programs, even while cutting overall costs, because we understand the positive impact wellness has on our workforce and our business.
Prevention for physical and mental health
To encourage employees to be proactive about their health and well-being, Devon covers the cost of annual physical exams, annual vision screenings, two annual dental exams, colonoscopies, mammograms, prostate exams and well-woman exams. For convenience, we offer on-site mammography twice each year. Employee participation in preventive cancer screenings in 2019 exceeded national benchmarks up to 20% in some categories.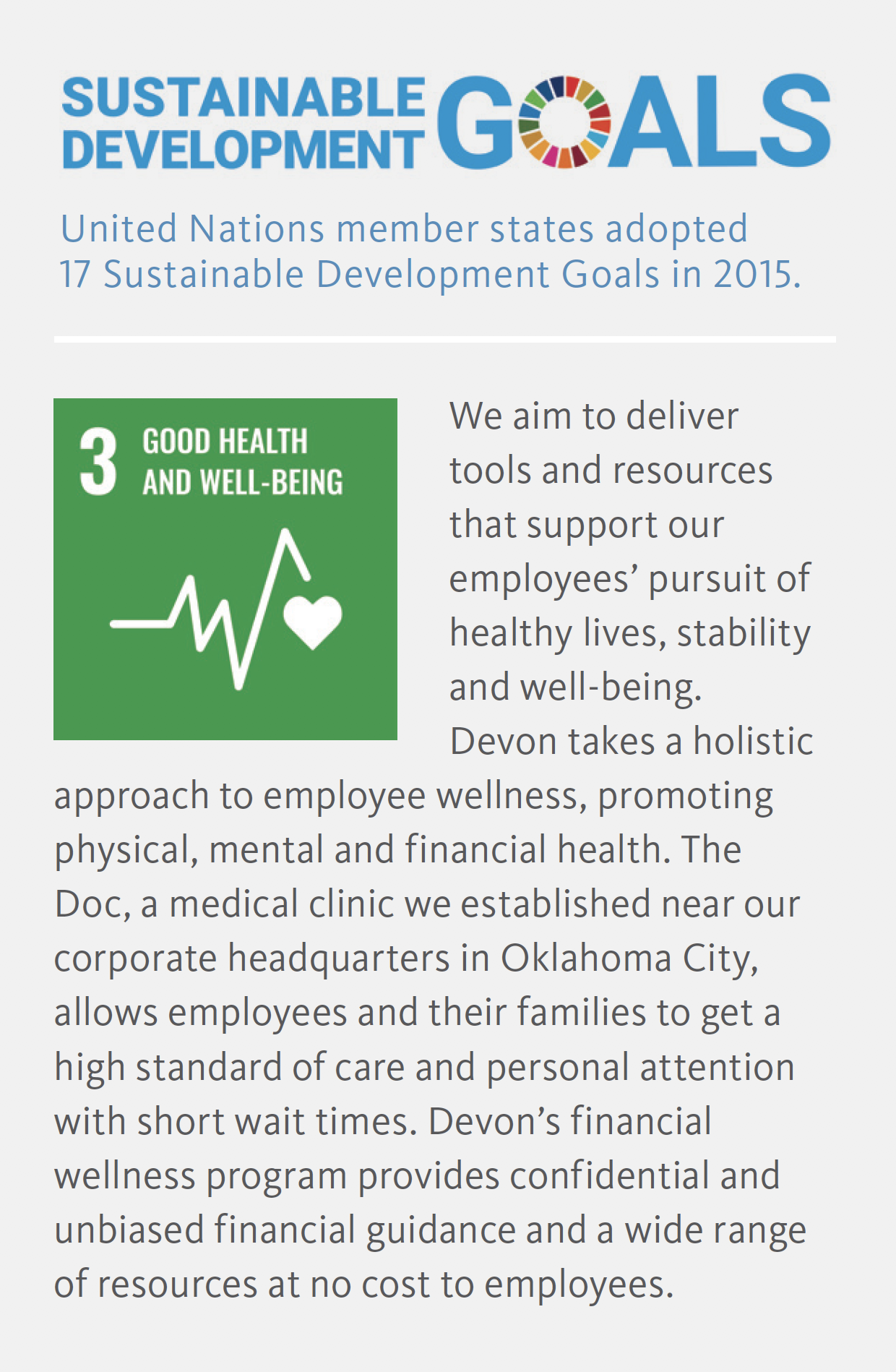 In 2019, 60% of Devon employees received an annual physical exam from their personal physician, an increase from 58% in 2018. Nearly 800 physicals were completed at the Doc, the medical clinic we established so employees and their families could get a high standard of care and personal attention with short wait times near our corporate headquarters in Oklahoma City. Additionally, 29 employees received annual physicals on-site at our Weatherford, Oklahoma, field office in 2019.
We support employees who want to make healthy lifestyle changes and provide high-quality, no-cost offerings to help them prevent chronic illnesses and health problems. These include programs for diabetes support, a pre-diabetes version for field employees, and tobacco cessation. Eligible employees also can take part in Drop at the Doc, a 22-week physician-led weight-loss program.
Through education efforts, Devon makes our workforce aware of common mental health issues like anxiety, depression, addiction and insomnia, as well as treatment options available to employees enrolled in our medical plan. In addition, employees can receive three free counseling sessions through our Employee Assistance Program (EAP).
We encourage employees to take advantage of our wellness programs by awarding points for activities like getting a physical exam or completing a financial wellness series. They can track points and progress on our online portal. Employees who accumulate 1,000 points in a year receive up to $2,500 in contributions to their health savings account (HSA). A large number of Devon employees set aside money in an HSA for qualified medical expenses, and the average HSA balance has increased for the past three years.
Employee engagement in our wellness programs was strong in 2019, with 95% of employees registered on our online portal, 72% completing their well-being assessment and 82% earning at least 1,000 participation points.

Financial well-being in all phases of life
Debt, day-to-day financial challenges and saving for retirement can affect people's sense of well-being. Devon's financial wellness program provides confidential and unbiased financial guidance and a wide range of resources at no cost to employees. Employees can take a third-party financial assessment, receive one-on-one consultations with experts and participate in onsite and web-based workshops as part of our financial wellness program. We're at the top of our industry for 401(k) plan contributions, with over 99% of employees contributing to the plan in 2019 and the percentage of their paycheck contributions growing every year from 2016 through 2019. We believe it's because our employees are well informed about the importance of retirement savings on their financial well-being.
To help employees understand financial requirements based on their phase in life, Devon hosted a well-attended series of classes on estate planning, debt management, retirement planning and long-term care planning in 2019. The classes will be available again in 2020.
Ultimately, we believe giving our employees opportunities to improve their well-being will enhance Devon's ability to be a sustainable business.