Reducing methane emissions
Taking action to measure, report and mitigate methane emissions
Achieving meaningful reductions in methane emissions is a central component of Devon's broader emissions reduction strategy. We are taking action to measure, report and mitigate methane emissions in a trusted and transparent way.
We are undergoing independent third-party verification of our Scope 1 and Scope 2 location-based GHG emissions data, including methane emissions. We are evaluating, testing and deploying innovative methane detection technologies, as well as participating in industry-leading methane measurement and reporting initiatives.

Independently verifying our reported GHG emissions data

To bolster the credibility of Devon's emissions reporting on which our emissions reduction targets are based, Devon engaged with ERM CVS to conduct independent third-party limited assurance of our Scope 1 and Scope 2 location-based GHG emissions data, which includes methane, for the reporting year 2021.

See ERM CVS's Independent Assurance Statement to learn more about the third-party verification process, including the conclusion from the verification process.

Evaluating, testing and deploying advanced methane monitoring technologies

Advanced methane detection and quantification technologies are evolving rapidly. Devon has a cross-functional team that evaluates emerging technologies that have the potential to be more effective at finding leaks over broader areas, allowing for faster detection and mitigation. The team is investigating advanced optical gas imaging (OGI) cameras, sensor-, camera- and laser-based continuous and near-continuous monitoring, and fixed-wing aircraft flyovers.

In 2021, Devon established an emissions monitoring test facility in the Anadarko Basin, near our corporate headquarters, which will play an important role in identifying which innovative technologies are viable candidates to incorporate more broadly across Devon's various operating areas.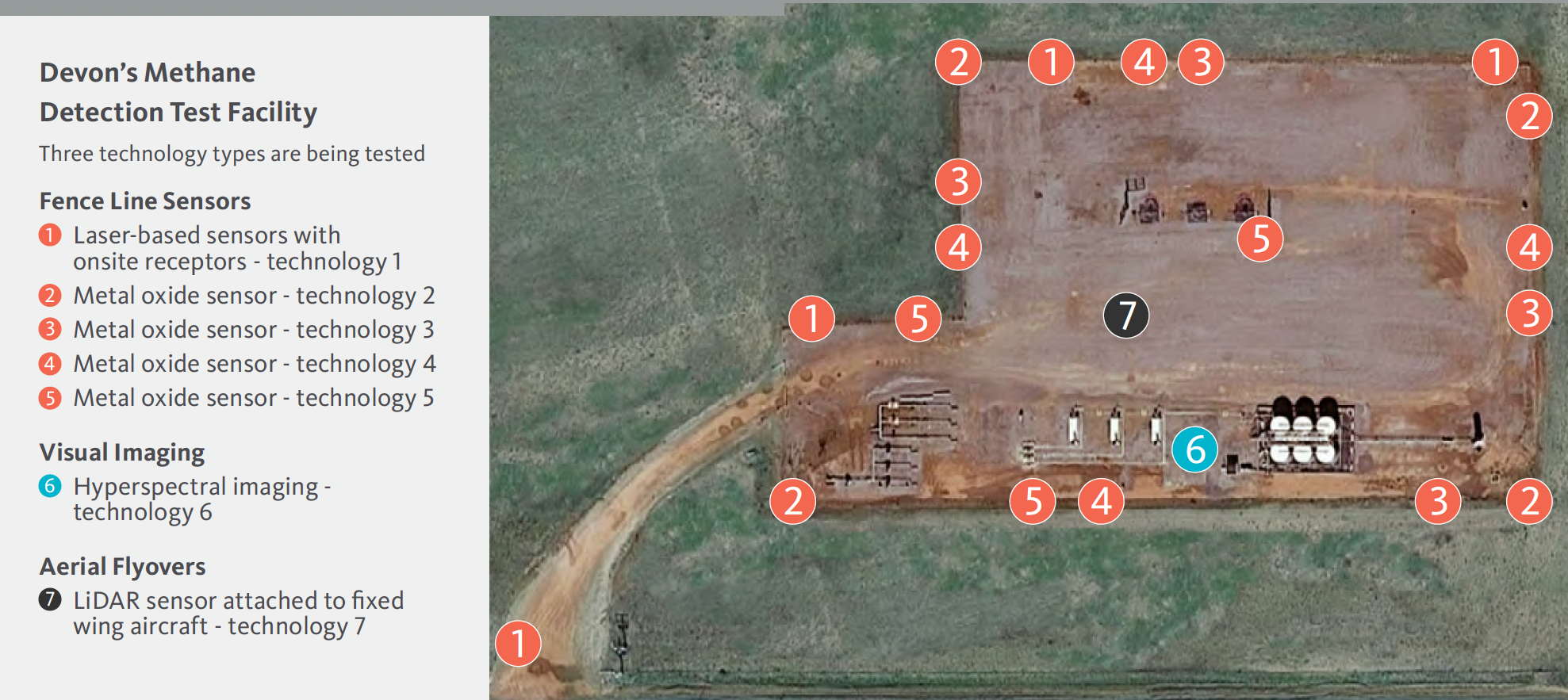 In 2022, we enhanced our leak detection and repair program with an aim to achieve the following for the year:

Survey 100% of production facilities with OGI cameras at least once annually
Survey 100% of production facilities with aircraft flyovers at least twice annually

Install continuous emissions monitoring on 20% of production

As Devon continues to evaluate, test and deploy innovative methane detection technologies, we are also developing best practices to operationalize the new data derived from these technologies and exploring how to demonstrate the progress we are making in a consistent, credible and transparent way.
Collaborating with industry to develop methane measurement and reporting methodologies
Working with leading companies that share our commitment to reducing methane emissions is critical for Devon and the broader industry as we seek to develop trusted methodologies for reporting methane emissions, incorporating the types of technologies that Devon and others in the industry are evaluating, testing and deploying.
GTI Veritas

In 2021, Devon become a founding sponsor of Veritas, a GTI Energy Methane Emissions Measurement and Verification Initiative. Veritas is the first-ever standardized, science-based, technology neutral, measurement-informed approach to calculating and reporting methane emissions along the natural gas supply chain from production all the way to distribution.

As a founding sponsor, we are working with GTI Energy to develop and test the protocols in a transparent process together with technical experts, leading academics, environmental NGOs, and companies. The widespread adoption of the Veritas protocols, once completed, across industry ensures that there is a consistent and transparent methodology for companies to calculate and report methane emissions. It also provides a standardized way of evaluating methane emissions monitoring and mitigation technologies.

The Veritas technical protocols currently under development cover six segments of the natural gas value chain and provide companies with guidance on how to measure methane emissions and how to reconcile their current emission-factor inventories with actual measurements.

Oil and Gas Methane Partnership 2.0

In 2022, Devon joined the Oil and Gas Methane Partnership 2.0 (OGMP 2.0), a multi-stakeholder partnership to improve the accuracy and transparency of methane emissions reporting in the oil and gas sector. OGMP 2.0 is a voluntary, public-private partnership between the United Nations Environment Programme, the European Commission, the Environmental Defense Fund and over 80 oil and gas companies aimed at minimizing methane emissions from global oil and gas operations. Its work has helped to raise awareness of methane emissions and contributed to the growing priority of mitigation activities.

OGMP 2.0 is the only comprehensive measurement-based reporting framework covering all material sources of methane emissions from both operated and non-operated assets across all segments of the value chain.