Devon Energy Recognized as Industry Leader by JUST Capital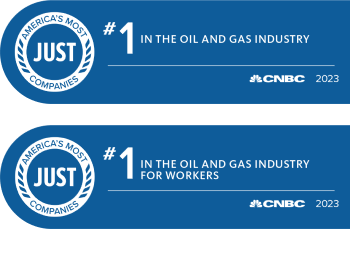 On Jan. 10, Devon Energy was recognized by JUST Capital in its 2023 JUST 100 list as America's #1 most JUST company in the oil and gas industry and #1 in the industry for workers.
JUST Capital is an independent nonprofit with a mission to support a better economy in the U.S. by helping companies improve how they serve all their stakeholders. Each year JUST surveys the American public, scours public information, and gathers data to understand how performance translates into investment returns. Companies meeting the needs and expectations of the American public have proven that they are best positioned to harness the power of their workforce and generate long-term value for shareholders.
More qualitative in format than most, JUST Capital weights results based on public polling results and media coverage in addition to companies' financial performance. Each year the JUST 100 list is published in Forbes and highlighted on CNBC.
"Devon is a great company and employer, and we are honored that JUST Capital has named us the top-ranked company in our industry for overall performance and for our workforce," said Rick Muncrief, President and CEO, Devon Energy. "Creating long-term value for shareholders requires performance on a range of important factors. Our focus on integrity and how we treat each other, and our stakeholders is critical because we lose in the long run if we neglect what matters to maintaining a corporate culture that endures. Thank you to JUST Capital for recognizing our efforts and accomplishments."
For the annual rankings, JUST Capital collects and analyzes corporate data to evaluate the 1,000 largest public U.S. companies across 20 issues identified through comprehensive, ongoing public opinion research on Americans' attitudes toward responsible corporate behavior. JUST Capital has engaged more than 160,000 participants, on a fully representative basis, since 2015.
Compared to their Russell 1000 peers, companies in the JUST 100 on average:
Created 12,318 more jobs in the U.S. from 2017 to 2021.
Pay 72% of workers a family sustaining living wage (8.6 percentage points more than peers).

Provide nine more hours of career development training per employee.

Offer two more weeks of paid parental leave for primary caregivers and one more week of paid leave for secondary caregivers.

Offer two more days of paid sick leave.

Intake 79% less water per revenue dollar.

Emitted 42% less metric tons of CO2 per revenue dollar.

Had a 4.5% higher profit margin, 2.3% higher return on equity, and paid five times more in dividends.

"There has never been a more important time for businesses to step up, do right by their workers, and restore trust in capitalism and the American Dream," said JUST Capital CEO Martin Whittaker. "This year's JUST 100 leaders demonstrate that just business truly is better business."
About JUST Capital
JUST Capital is an independent nonprofit dedicated to measuring and improving corporate stakeholder performance – from fair wages to workforce diversity to climate commitments – at America's largest public companies. Our mission is to tackle the most pressing social challenges of our time by galvanizing the collective power of corporate America. We believe that business and markets can and must be a greater force for good, and that by shifting the resources of the $19 trillion private sector, we can address systemic issues at scale. Guided by the priorities of the public, our research, rankings, indexes, and data-driven tools help deliver on the promise of stakeholder capitalism and an economy that works for all Americans. JUST Capital publishes the annual list of America's Most JUST Companies, the JUST 100, in partnership with CNBC. To learn more, visit: www.JUSTCapital.com.