From Intern to Vice President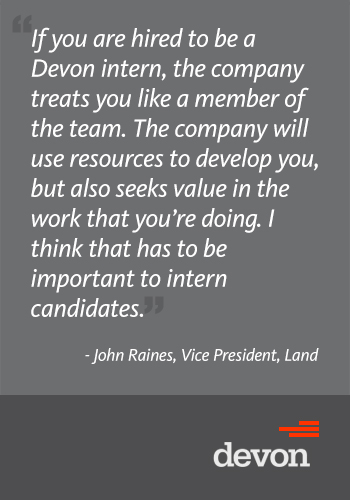 In June 2005, John Raines toured Devon's Bridgeport natural gas processing plant in Texas not knowing much about the marketing and midstream function of an oil and gas company. It was part of his experience as an intern in Devon's Land Department.
The trip would change his perspective on a career in oil and gas.
Seeing how the plant fit within the company's value chain sparked an interest that contributed toward him to being a vice president less than nine years later.
"It caused me to develop an interest in marketing and midstream and really led to a broader desire to see the big picture," Raines said. "There were a lot of roots that started with that internship."
After his internship, Raines worked as a landman until April 2008. During the next six years, he held positions in Acquisitions and Divestitures and Upstream Marketing. Each role brought expanded responsibilities. Management promoted him to vice president of Land and Regulatory in February 2014.
Devon internships offer real responsibilities, relationships
Despite a wide range of successes since his internship, Raines still refers to the 2005 stint as one of his most important experiences. He interned at a competitor the year before, and immediately noticed a difference at Devon. Devon was more structured and provided real responsibilities.
Raines said he was treated like a member of the team. Fetching coffee or performing mundane tasks was never on the table. During a yearlong land internship, he worked not only with his Oklahoma City land team, but with Lease Records, Division Orders, Regulatory and both surface and title landmen in the North Texas field offices.
"It was a great baptism by fire," he said. "I actually had this job that I could learn from. You can only learn so much in a classroom."
Another difference: the people.
"All of these experienced professionals who I have so much respect for actually cared about my development and helped me with my projects — often taking significant amounts of their own time to do so." Raines said. "I developed so many relationships that really paved the foundation for my career here and which I value to this day."
Raines recalled one example of a landman helping him over the majority of a day with a project Raines needed to finish. It wasn't until days later that he learned the landman had her own project due the next day and worked late into the evening and came in early the next day to finish it.
"People would spend time that they didn't have to help get me where I needed to be," Raines said.
Advice to interns: Have that fire
So what advice does Raines have for intern candidates? Focus on doing well in school and be active in oil and gas-related student organizations and events. Devon looks for candidates who have proven they can manage their time and who take the initiative to stand out.
Leaders throughout Devon look for students who embody the Devon values of being a team player, always doing the right thing and delivering results.
"Have that fire," Raines said. "Have that competitive spirit but also show that you can work well on a team."
And although Raines is one example of how a student can advance from an internship with Devon, he looks at a photo in his office showing the 2005 intern class, pointing out a slew of others from the class who have progressed to key roles within Devon. They are experts and leaders in various functions including Marketing, Engineering, Geology, Environmental, Health and Safety and Land.
"If you are hired to be a Devon intern, the company treats you like a member of the team," Raines said. "The company will use resources to develop you, but also seeks value in the work that you're doing. I think that has to be important to intern candidates."
Click here for more information on Devon's U.S. intern program.

Published: October 2015