Workforce Safety
Empowering our team
Everyone at Devon – our leaders, employees and contractors – is expected to actively participate in making Devon a safe place to work. We empower our team by providing comprehensive safety resources, measuring leading and lagging indicators, setting corporate safety goals and incorporating our safety metrics into our compensation.
We're committed to integrating the guiding principles in our Environmental, Health and Safety (EHS) Philosophy into all decisions that affect our operations. Compliance with applicable safety laws, regulations, policies and protocols is a key principle, and is reinforced in our Code of Business Conduct and Ethics, EHS Policy and safety orientation, training and engagements.
Our governance structure supports Devon's commitment to making safety our top priority. The Governance, Environmental, and Public Policy (GEPP) Committee of our board of directors reviews our safety performance and keeps the full board informed. Devon's executive vice president and chief operating officer (COO) is responsible for our safety performance, with the vice president of ESG and EHS reporting to the COO.
This vice president position is a new role that elevates the visibility and importance of ESG and EHS strategy, activities and disclosures.

Our senior leaders oversee safety policies and performance, and the ESG Committee supports management's commitment to safety and health. In turn, our workforce is empowered to do what's necessary to perform work safely and stop work if they see a safety risk.
Strategy and implementation
To drive continuous improvement, the Devon EHS Council sets safety and health strategy and helps ensure implementation. The council is made up of EHS, operations and business unit managers who meet regularly to monitor performance, share lessons learned, and communicate corrective actions and best practices. In addition, through roundtable discussions with production operations leaders, the council keeps the organization updated on stakeholder expectations for EHS performance.
The EHS Management System (formerly our EHS Roadmap) developed by the council guides our selection of the most effective activities and programs to help us continuously improve in 14 key elements of EHS performance. In 2020, the council met its goal to share and use learnings about SIFs and near misses, which is part of our transition from lagging metrics to leading indicators. It also largely completed activities related to the Training and Competency element, with specific attention on employee training for critical tasks and for completing competency assurance.
With fresh eyes and input from new WPX team members, the EHS Council started identifying safety best practices from both legacy companies to carry forward. We adopted the WPX focus on driving safety and key elements of its contractor management program. We also integrated Devon's SIF investigation and tracking process across all of our business units. Throughout 2021, the EHS team will continue making training improvements in some business units and focus on leading indicators to support reaching our corporate safety goals.
Strong EHS culture
One of the council's ongoing priorities is to encourage a strong EHS culture at Devon. We believe the care and concern we show our workforce can have a positive impact on their safety and health at work and at home. We've learned from our field leaders that transparent communications, positive safety behaviors, proactive reporting and safely meeting operational goals are both signs and outcomes of a healthy EHS culture. The council assesses our EHS culture regularly to pinpoint the right approaches and programs to advance safety performance.
Each employee learns about our safety culture on their first day on the job, and we keep the conversation going throughout their career.
During new-hire orientation, employees learn the safety behaviors we expect and incorporate into the employee appraisal process.


Job competency is one of our EHS guiding principles. We emphasize the quality of safety training over the quantity. A combination of online and hands-on training is offered to office and field workers as appropriate for their job responsibilities. All employees must complete our field safety briefing if they work on or visit field locations. Our training reinforces our requirement to immediately report any incident or near-miss event and to be accountable for our own and others' safety.

We put our safety culture into action in 2020 as we worked to keep our field crews healthy and safe during the challenges and distractions of the pandemic. In addition to following local protocols, we held socially distanced training sessions and safety meetings. The experience highlighted the importance of having leaders in the field and in-person safety meetings to continue to set the right tone to work safely at Devon.
Stop Work Responsibility
Proactively managing safety risks is a key factor in maintaining safe working conditions. Starting with new-hire safety orientation and continuing on our work sites, we emphasize the importance of Stop Work Responsibility. Employees have the right, responsibility and obligation to speak up and stop any action, task or behavior that is or could be unsafe. It's also a way we live our value of courage, and Devon pledges to support anyone who exercises their Stop Work Responsibility. We capture and track proactive stops and good catches, and recognize individuals for stopping work to safeguard themselves, each other and the environment.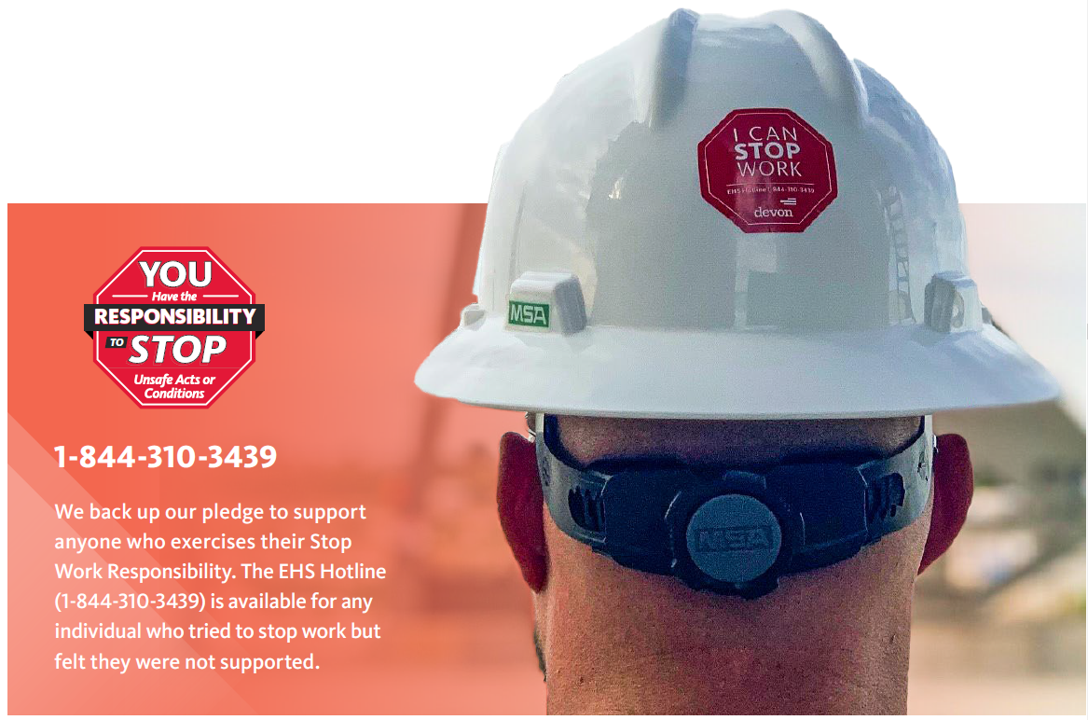 Communicating our EHS culture
As a core element of our safety engagement efforts, our Hearts and Minds workshops drive home why safety is important to Devon. During the workshops, we share our safety culture and approach to effective communication, continuous improvement, integrity and situational awareness to reduce safety risk. Our Hearts and Minds workshops were thoughtfully paused following the onset of the global pandemic in 2020, but we believe so strongly in the value of the program that we resumed the workshops, with masks and social distancing to prevent the potential spread of COVID-19, for a number of service and rig crews. In 2020, more than 250 individuals participated in Hearts and Minds or a rig onboarding workshop, including legacy WPX employees, leaders across Devon and contract drilling crews.
High expectations for contractors
Our contract partners who perform work in the field are indispensable to our operations. We seek contractors who have the most robust safety programs and track records, and we strive to work only with approved contractors who complete our supplier qualification process and meet our substantial policy and insurance requirements. Contractors are responsible for having EHS programs that meet or exceed all federal, state and local laws, rules and regulations, as well as Devon's standards and protocols for essential safety activities. In 2020, for the fourth straight year, more than 80% of legacy Devon's operational spending was with contractors who earned our highest safety ratings.
As part of integrating best practices, in 2021 Devon transitioned to Veriforce for third-party contractor verification and management. Among other improvements, Veriforce enables us to send prospective contractors and vendors a customized questionnaire to gauge their alignment with our core ESG priorities. We believe the periodic questionnaire will encourage constructive interactions with contractors who perform services directly on our work sites, and ultimately strengthen our supplier relationships.
We require contractors to perform high-quality, environmentally sound and safe work. Contractors are expected to supply and retain quality personnel who are adequately trained to perform their jobs safely, and we work constantly to raise the level of contractor safety performance through training and engagement.
To work with Devon, unless specifically exempted by the EHS Contractor Management protocol, non-exempt contract workers must complete SafeLand or Rig Pass training. Both of these widely used industry safety training programs, as well as Devon's contractor safety orientation, can be found on Veriforce's eLearning platform. Our field orientation covers critical safety rules for common activities at field locations, such as handling chemicals, housekeeping and waste management. Oil haulers and all other contractors who work in transportation are required to complete safety briefings specific to their work. Devon's company website provides contractors with easy access to our safety requirements, expectations, protocols, Safety Data Sheets (SDS), forms and tools.

To proactively manage risk, crews participate in a pre-task tailgate meeting before they start work to raise awareness of the potential risks and exposures, required personal protective equipment (PPE) and other aspects of the job.

Leadership engagements in the field can have a positive impact on our workforce, safety performance and operational excellence. To encourage safety-related engagements, our field personnel wear hard hat stickers that say, "Ask me my reason for working safely." This simple question allows for opportunities to make safety personal for those engaging in that conversation.
The conversations that result often reveal that people work safely so they can return home to their family and friends – a higher motivation than simply following procedures.


Compliance audits
Audits to identify and correct safety concerns are an element of our EHS Management System. Each business unit is required to perform an annual safety self-audit of compliance with regulations and Devon EHS protocols. Findings of noncompliance and suggestions for improvement are recorded in our Incident Management System (IMS) and tracked to closure. Business unit EHS professionals lead the audits, with guest auditors from other business units on hand to share best practices and lessons learned.
More than half of the audit time is spent at field locations, with a focus on sites where work is under way so auditors can engage employees and contractors. Auditors also check training, competency and inspection records, and other documentation. Trends observed and lessons learned during audits are shared across Devon to drive improvement.
Devon's internal audit team provides an additional layer of review by performing operational audits in our field offices to examine processes and controls for functions such as supply chain, inventory and fleet management. Internal audit also periodically assesses the field audit process and recommends improvement opportunities. For example, Devon internal auditors suggested including guest auditors in business unit audits to provide an independent voice.
Audits have also led to streamlining to one toll-free number for ethics, EHS and other issues across all Devon locations. Over time, the corrective actions we complete to address audit findings can lead to safety, operational and process improvements.
Gauging our progress
Annual corporate safety goals drive where we focus our efforts to improve performance. Our legacy companies had different safety goals in 2020: Devon's metrics were the recordable SIF rate, SIF learnings, ESG/EHS culture and EHS roadmap; WPX measured safe driving, contractor management and ESG.
In 2020, legacy Devon fully met our corporate goal to share learnings from SIFs, but did not meet our goal to reduce our SIF rate. Both legacy companies experienced a contractor fatality and Devon's SIF rate was higher than in 2019, deeply affecting families, loved ones and coworkers. We work constantly to prevent SIFs and all injuries and incidents so our employees and contractors can return home safely every day.
SIF investigations in 2020, led by each business unit and reviewed by the EHS Council, identified root causes such as improper use of tools and failure to follow standards, policies, controls and procedures. We addressed the root causes and took corrective actions including reviewing equipment designs and reinforcing Devon policies, requirements and best practices with our contractors. We also review SIFs where no one was injured and industry SIFs to deepen our understanding of trends, mitigations and best practices.
Devon focuses on the SIF rate because we want to prevent life-threatening and life-altering incidents and to understand high-risk near misses to help us improve. To give a comprehensive view of our safety performance, we also track the Days Away Restricted Rate (DART), Lost Time Incident Rate (LTIR) and Total Recordable Incident Rate (TRIR) for employees and contractors.
Employees of both legacy companies drove a combined 16.2 million miles in 2020. At mid-year 2020, legacy WPX took action to reverse a rise in preventable motor vehicle accidents (MVA). A safe driving campaign with stickers, posters and a 360 walkaround to check for hazards was rolled out for every company and employee vehicle. The result was a dramatic drop in MVAs in the second half of the year, allowing WPX to meet its 2020 corporate goal for safe driving. Devon now tracks our MVAs companywide, and several business units have set goals to improve driving safety locally.