Workforce Safety
We want everyone on the Devon team to be safe at work, at home and behind the wheel. We tell everyone who works for us in the field that, "When you cross the cattle guard, you're on our team."



To achieve exemplary safety performance, we expect our leaders, employees and contractors to actively participate in making Devon a safe place to work. Our Environmental, Health and Safety (EHS) Philosophy outlines 10 guiding principles that our employees and contractors are accountable for implementing fully. The first principle is compliance, and everyone who works for Devon is expected to comply with all applicable safety laws, regulations, policies and protocols.
Creating our safety roadmap

Safety is the top priority at Devon, and that commitment extends to the highest levels of the company, including our board of directors. Under our safety governance structure, Devon's executive vice president of exploration and production is accountable for our safety performance, and our senior leaders oversee safety policies and performance. In turn, our workforce is empowered to do what's necessary to perform work safely and stop work if they see a safety risk.

Our EHS Council sets safety and health strategy, ensures implementation to continuously improve our safety systems and monitors safety performance. Council members include managers from our EHS, operations and business unit teams. In 2019, the council met its safety goal for the year of sharing safety learnings widely and transparently. It also developed an EHS Roadmap to guide selection of the most effective activities and programs to drive continuous improvement. Each year, the council chooses specific elements to advance; in 2020, the safety emphasis is on Training & Competency, with special attention on employee training. The council is tracking progress and sharing monthly updates with senior leaders.
Knowing that the workplace culture impacts safety performance, the EHS Council sharpened its focus to encourage a strong EHS culture at Devon. With specific input fromfield leaders, we continue to assess our culture, and we've begun to integrate culture discussions into EHS performance evaluations. We want to identify the right programs and culture to sustain success, as we as continue our transition from lagging metrics to leading indicators in pursuit of better safety performance.
The EHS Council placed additional focus on sharing corrective actions and learnings from investigations of the most serious safety incidents. In 2020, we're also adding annual protocol refresher training for those in charge on our locations and will track corrective actions across all our operating areas.
Embedding culture and job competency requirements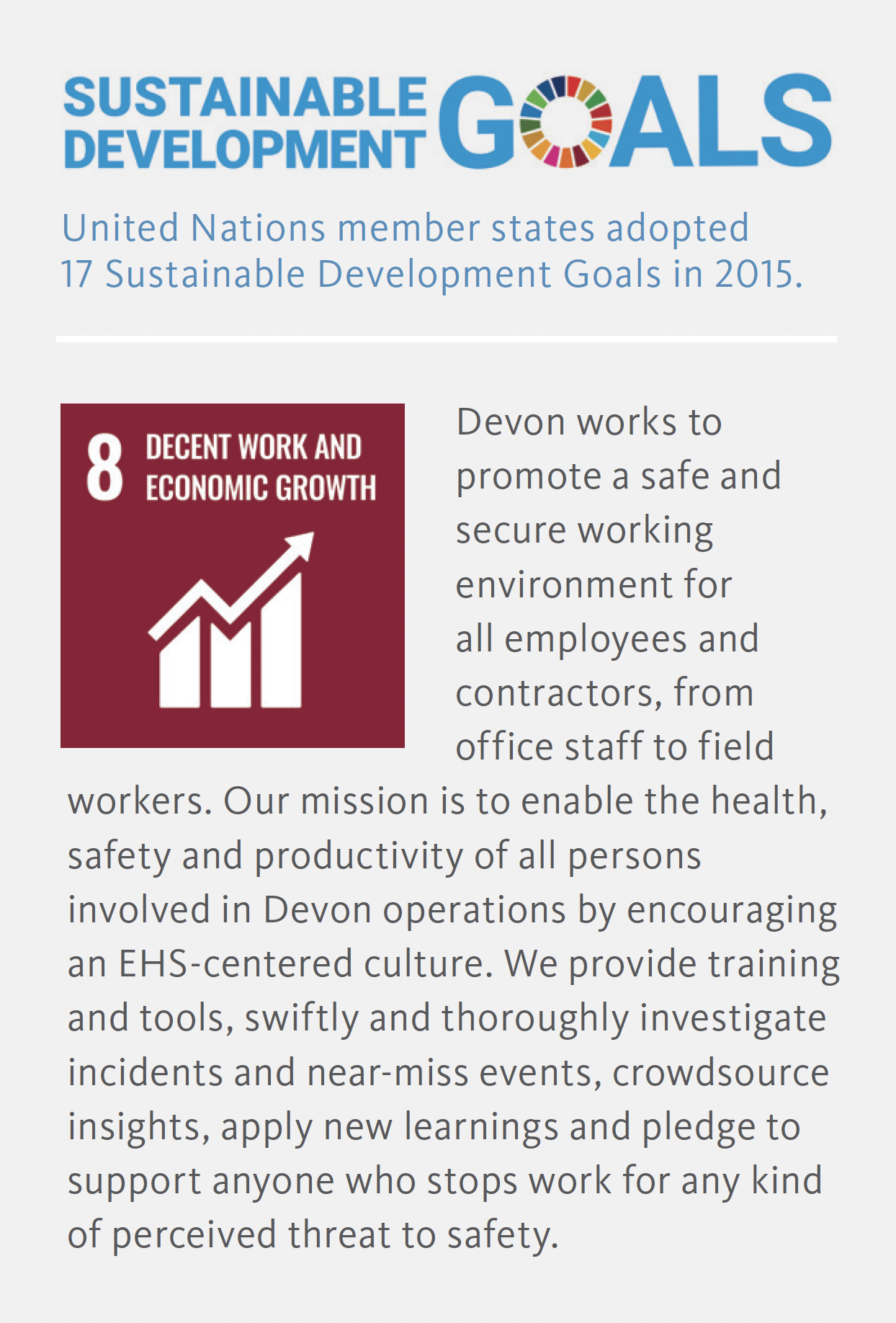 Instilling the Devon safety culture starts on each employee's first day on the job and continues throughout their career. During new-hire orientation, employees learn the safety behaviors we expect and incorporate into the employee appraisal process: visible commitment, accountability, anticipation, participation, recognition and communication.
Job competency is one of our EHS guiding principles. We give employees the training and tools they need to perform their jobs safely and effectively, based on a survey they complete each year. Safety-related training is offered online for office staff and onsite for field workers, with more emphasis on the quality of training than the quantity. All employees must complete a field safety briefing or orientation if they work on or visit field locations. Our training reinforces our requirement to immediately report any incident or near-miss event and to be accountable for our own and others' safety.
We delivered our Hearts and Minds workshops to more than 750 employees and contractors in 2019. This included leaders across Devon, contract drilling and completion crews and construction contractors, which brings the total number of participants to more than 1,000 over the last two years. Through subjects like safety culture, effective communication, continuous improvement, integrity and situational awareness, Hearts and Minds drives home why safety is important to Devon. Based on positive feedback from employees and contractors who have attended the workshop, we believe Hearts and Minds sets the right tone to work safely at Devon.
High expectations and requirements for contractors

About 80% of our work in the field is performed by our contract partners, making them indispensable to our operations. Devon's policy is to work only with approved contractors who complete our supplier qualification process and meet our substantial policy and insurance requirements. Contractors are responsible for having EHS programs that meet or exceed all federal, state and local laws, rules and regulations, as well as Devon's standards and protocols for key safety activities. Devon strives to work with contractors who have the most robust safety programs and track records. In 2019, for the third straight year, more than 80% of our operational spending was with contractors who earned our highest safety ratings.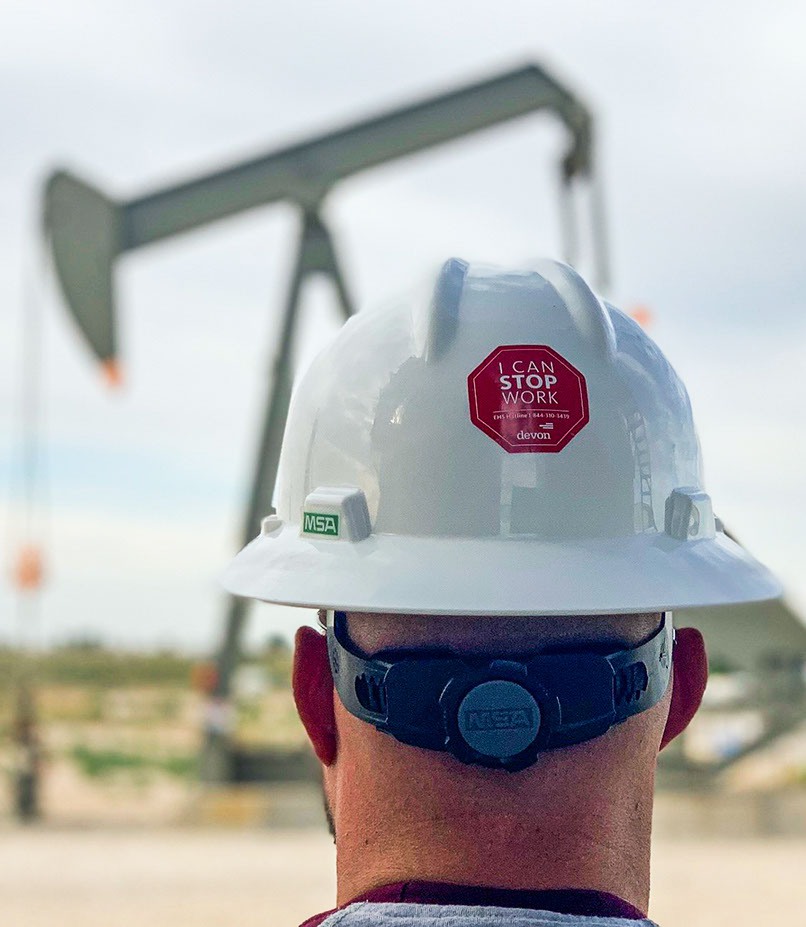 As a guiding principle, Devon requires high-quality, environmentally sound and safe work from our contractors. We expect contractors to supply and retain quality personnel who are adequately trained to perform their jobs safely, and we continually work to raise the level of contractor safety performance through training and engagement.
To work with Devon, contract workers must complete SafeLand or RigPass training, both widely used industry safety programs, as well as the Devon contractor safety orientation found on our online contractor portal. The field orientation describes our critical safety rules for handling chemicals, housekeeping, waste management and other activities while working on our locations. Oil haulers and all other contractors who work in transportation or in seismic operations must complete safety briefings specific to their work. In addition, our safety requirements, expectations, protocols, Safety Data Sheets (SDS), forms and tools are on the company website for easy access by contractors.
Before crews start work, they participate in a pre-task tailgate meeting to raise awareness of the potential risks and exposures, required personal protective equipment and other aspects of the job. Leadership engagements in the field can have a positive impact on our workforce, safety performance and operational excellence. To encourage safety conversations, our field personnel wear hard hat stickers that say, "Ask me my reason for working safely." The resulting interactions often reveal that people work safely so they can return home to their family and friends – a higher motivation than just following procedures.
REINFORCING STOP WORK RESPONSIBILITY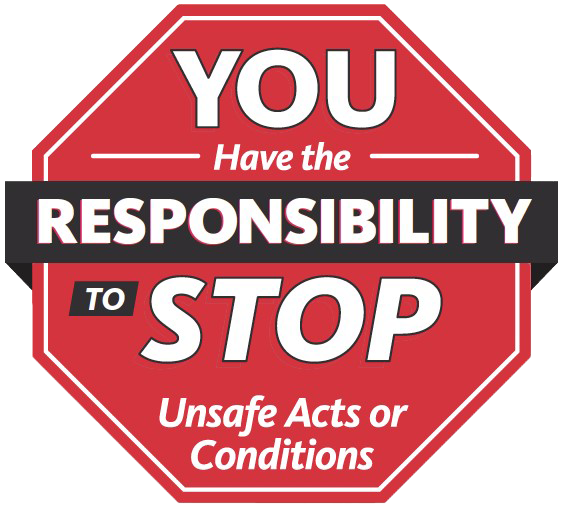 During safety orientation and on our work sites, we stress the importance of Stop Work Responsibility and our pledge to support anyone who stops a job and calls for a safety meeting if they see an unsafe situation.

Across our operating areas, we saw an increased willingness in 2019 to exercise Stop Work Responsibility to put safety above production. There were multiple good stops to remind workers to follow protocols that can prevent significant incidents and fatalities. These included ensuring a Hot Work permit was in place when a job moved, stopping personnel from walking under suspended loads and stopping improper use of fall protection that could result in a serious injury.

Workers also shut down work due to high winds and other weather conditions. Our teams recognize and reward workers who exercise their Stop Work Responsibility and encourage them to share safety stories.
Auditing our operations

We expect employee-led audits of our operations to help us improve our safety performance. To address audit findings, employees in our various business units develop and implement corrective actions that are recorded and tracked in the Devon Incident Management System. Over time, these steps can lead to operational improvements focused on safety.
Measuring our safety performance
Devon sets corporate goals for safety performance every year to drive improvements. We fully met our 2019 goal for sharing learnings from significant incidents and fatalities (SIF), but our overall performance was challenged. The year was marked by one contractor fatality and a higher SIF rate than 2018, tragic outcomes that we work continuously to prevent. Led by the EHS Council, we investigated each SIF to understand root causes and shared lessons learned. To address root causes, we worked closely with our contractors, beefed up training and reviewed and changed procedures and protocols. We also review industry SIFs to deepen our understanding of trends and mitigations.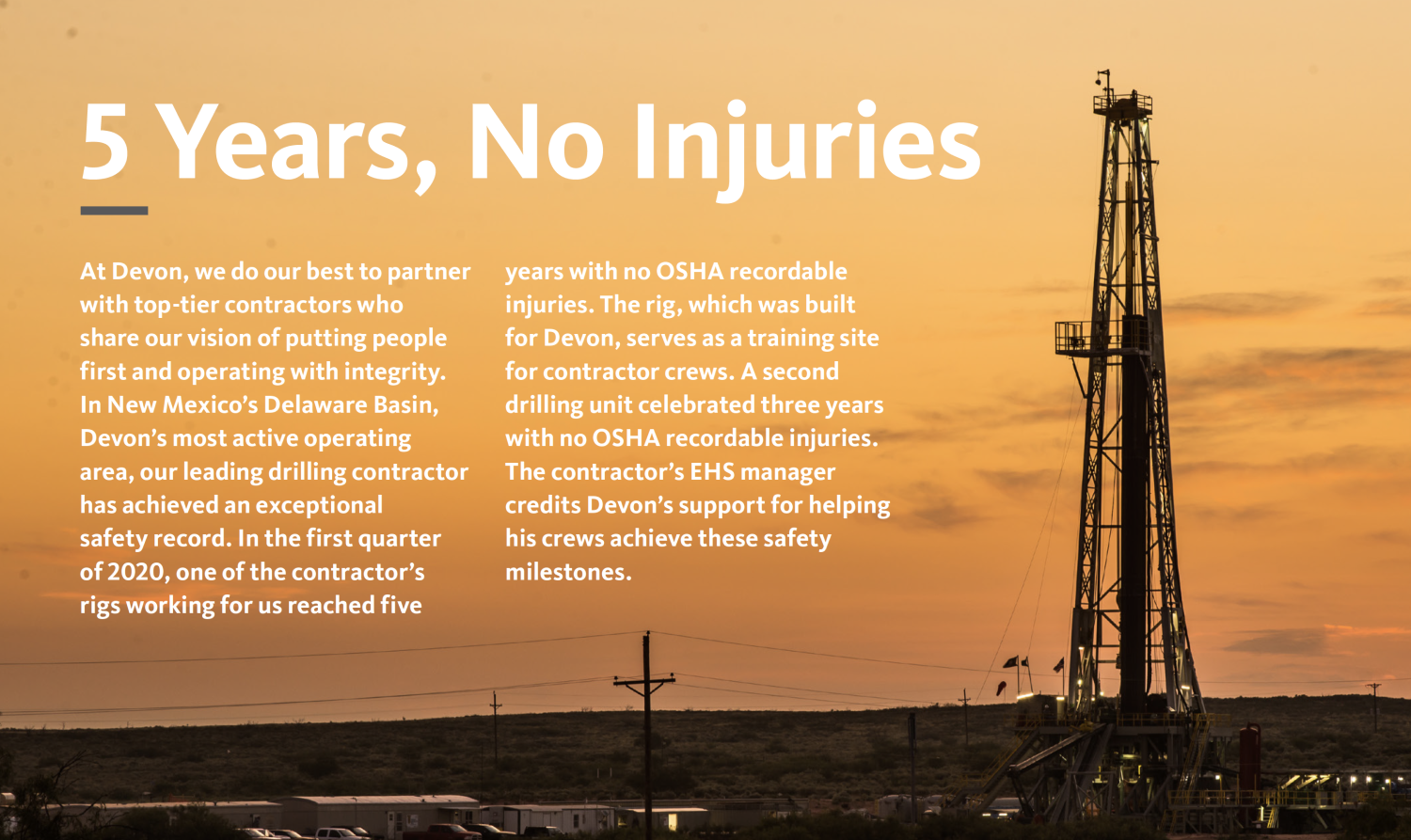 Devon's primary safety metric is the SIF rate because we want to prevent life-threatening and life-altering incidents and to understand high-risk near misses to help us improve. Our SIF recordable rate for employees and contractors was 0.08 in 2019, up 33% from 2018. With 25.8 million hours worked, our total recordable incident rate (TRIR) in 2019 was 0.54, up slightly from 2018. For the first time, we're disclosing our Days Away Restricted Transfer (DART) of 0.25 and Lost Time Incident Rate (LTIR) of 0.17 for employees and contractors in 2019, which capture a subset of injuries included in the SIF rate and/or TRIR. Taken together, we believe these metrics present a comprehensive view of our safety performance.
Devon employees drove 13.6 million miles with one vehicle SIF in 2019. During the year, we made an online defensive driving course available to any employee interested in taking the class for personal benefit.
We continue communicating our care and concern, reinforcing Stop Work Responsibility and strengthening our EHS culture to prevent life-altering and life-threatening injuries and illnesses and continuously improve our safety performance.
2020 corporate safety goals
Devon's 2020 corporate safety goals continue to be weighted toward leading indicators, including reducing SIFs by learning through near misses, swift completion of investigations and sharing what we learn clearly and quickly cross the company. We're also tracking improvement in SIF recordables, an important lagging indicator.
ATTRIBUTES OF A DEVON SAFETY LEADER
Guards against complacency at home, at work and behind the wheel
Understands a routine task can have SIF consequences
Keeps eyes open and watches out for others