Emergency Preparedness
We're keenly focused on a variety of potential events that could affect our employees, our assets, our business and our environment. In any emergency, our top priority is life safety.

Our corporate emergency management function, which reports to Devon's security department, leads our emergency response and recovery efforts. We follow the Federal Emergency Management Agency's (FEMA) National Incident Management System (NIMS) that enables cooperation among community agencies in managing the response to an emergency.
Devon provides in-house training, drills and exercises for employees on the NIMS Incident Command System (ICS) to ensure timely, effective response to weather events, operational incidents, supply disruptions and other emergencies. The head of our emergency management program is a certified Emergency Manager and ICS instructor, which strengthens our capabilities. We also have more than 200 employees trained as floor wardens to lead occupants of buildings and facilities companywide to safety and provide medical assistance during an emergency.


Real-time responses
Our training and experience using the ICS for all types of hazards paid off when Devon responded to several events in 2019 and 2020. While our past incidents mostly involved local and regional response, there were a few enterprise- and corporate-level incidents.
A well control incident in our Eagle Ford operations in November 2019 required an interdepartmental response that showed the depth and breadth of our leadership capabilities. It also demonstrated the value of the relationships we build with first responders, elected officials and community leaders in all our operating areas. In the case of the Eagle Ford, these connections allowed us to work in a unified manner with local officials and stakeholders and stay in contact with them during follow-up activities.
Devon also activated our incident command structure at the early onset of the COVID-19 outbreak in 2020. We communicated frequently and transparently with our workforce throughout our response to keep our employees and their families healthy and safe. For more information, please refer to our pandemic response page.

"The benefit of the ICS is having one process that allows us to respond to a tornado hitting a gas plant, an IT incident, facility damage, a well-control event and a pandemic. This process is refined with each response by turning lessons learned into best practices."

Jillian Sulley
Emergency Management Leader

Local, state and federal capabilities

Devon engages fire departments, law enforcement, emergency management and emergency medical services to ensure preparedness. We follow the U.S. Department of Homeland Security Exercise and Evaluation Program, which allows us to provide community partners with documentation that validates their participation for federal funding and medical facility accreditation requirements.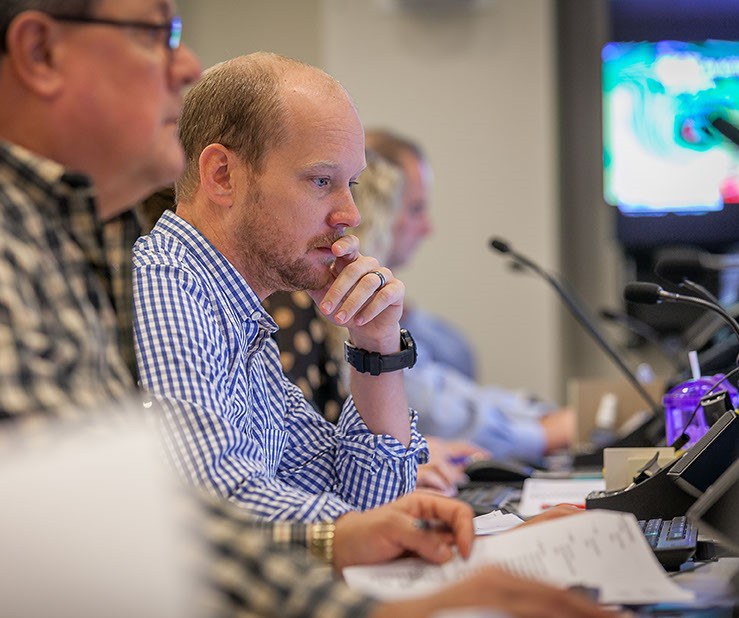 In addition to maintaining proficiency in our operating areas, we advocate for strong emergency management capabilities at the federal level. The head of our emergency management program serves as the chair of the Oil and Natural Gas Subsector Coordinating Council that works closely with the U.S. Departments of Energy and Homeland Security. In this role, Devon leads efforts to ensure that coordination for physical and cybersecurity preparedness remains at the forefront among oil and gas industry and government partners.
Continuous improvement
After every exercise and actual response, we document areas for improvement, best practices and strengths. Corrective actions are incorporated into Devon's environmental, health and safety (EHS) incident tracking system. When emergencies and incidents occur, our continuous improvement efforts and training enable us to protect our workforce, our neighbors and our assets. In turn, we're protecting our business and license to operate.