Land Conservation
Recognizing that oil and natural gas development is a temporary use of the land, Devon is committed to preserving the landscape and protecting wildlife habitat in areas surrounding our operations.


Devon operates in prairies, grasslands and deserts, taking great care to be a good steward of the land and wildlife habitat. In keeping with our guiding principle of environmental stewardship, our priority is to cause as little disruption to the land as possible and mitigate any impacts throughout the oil and gas production lifecycle.
Along with our programs to reduce air emissions, conserve water, prevent spills and manage waste, Devon's land conservation practices demonstrate our commitment to operate in an environmentally and socially responsible manner.
Biodiversity management is integrated into our process for selecting the placement of our well pads. It starts with a preconstruction environmental assessment to evaluate potential environmental impact in an area where we've staked out a well pad location. By evaluating the results of this assessment before building the pad, our teams can determine if there are environmental concerns at the site and adjust as needed.
Public Lands Foundation award
Protecting the land involves partners, including landowners, neighbors, industry groups and state and federal agencies such as the U.S. Bureau of Land Management (BLM). While all those organizations bring diverse perspectives, we all share a common interest in preserving our shared landscapes for future generations.
Devon has served as an industry leader in conserving habitat for the Dunes Sagebrush Lizard, a rare species found only in southeastern New Mexico and adjacent Texas. Since 2001, it has been a candidate for listing under the Endangered Species Act. Our work with the BLM and the U.S. Fish and Wildlife Service produced public-private conservation agreements to avoid certain areas and reclaim lizard habitat that may have been affected by oilfield activities in the past.
We've partnered with the BLM's Buffalo Field Office in Wyoming on numerous public land projects, including sponsoring the Wyoming Conservation Corps (WCC) since 2007 to engage college students in hands-on conservation work around the state. WCC students complete an annual 10-day land-stewardship project during which they spend a day with Devon employees who share insights about our industry and host a visit to active operations. Over the years, the WCC took on work that the BLM's Buffalo Field Office identified as necessary but lacked the resources to complete. WCC projects include maintaining trails, removing and rebuilding fencing, encouraging native plant and tree growth and removing invasive vegetation to benefit sage grouse habitat, mule deer winter range and human recreation, just to name a few positive impacts.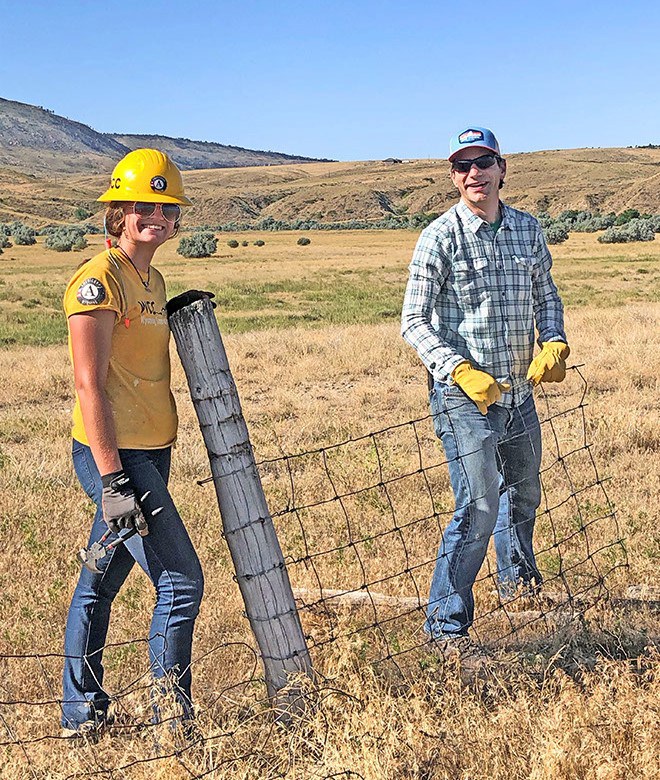 As part of the BLM partnership, Devon has plugged and reclaimed 360 idle coalbed natural gas wells since 2016, removing the associated overhead powerlines and reclaiming nearby roads and pipelines. This work represents thousands of acres of landscape restored in Wyoming's Powder River Basin.
In recognition of our leadership and vision, the Public Lands Foundation awarded Devon its 2019 Landscape Stewardship Certificate of Appreciation. Devon is the only oil and gas company to ever receive the award that honors private citizens and entities that work to advance and sustain community-based stewardship on landscapes that include public lands administered by the BLM. The company was cited for being proactive, creating a sense of teamwork between private industry and the BLM and cultivating a sense of commitment and trust.